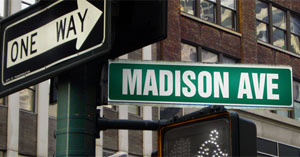 In recent years, inbound marketing – and especially content marketing – have been all the rage in the advertising and marketing fields. You know you need to incorporate inbound marketing techniques into your strategy, and agencies know that's what you're are asking for, too.
So, a problem has developed: old-school advertising agencies that specialize in traditional outbound marketing techniques like placing ads and creating direct mail pieces are increasingly slapping "Inbound Marketing" on their list of services without really taking the time to learn the skill set involved.
We've discussed inbound marketing a lot on this blog because it does happen to be a specialty of our firm. Which is why I'm comfortable pointing out the following signs that your ad agency doesn't really get inbound marketing.
Their website is built in Flash
You know the type: spinning and sparkly logos, animated intro pages that take 30 seconds to load... they are so 2002, it's not even funny. And they're going to handle your inbound marketing strategy? Your website design? Your lead generation efforts? Good luck with that!
No blog on the agency website
An agency that claims to understand and practice inbound marketing has to understand the necessity of a blog on their own website designed to provide valuable content and position the agency as experts in their field. If they have no blog, or – maybe worse yet – only use a blog to copy and paste their own press releases, they really don't get inbound marketing. Do you want an ad agency that doesn't practice what they preach?
They focus on themselves, not on you
This is a classic outbound marketing mindset: "Our agency is great because we've done flashy TV commercials, slick magazine ads and this that and the other thing. And we've been doing it for 47 years." The problem with that approach to self-promotion is that it completely alienates you – by assuming only a great fool could choose not to do business with them. But, if you're interested in inbound marketing, you know it's your prospect who needs to come first: their pain, their wants, their needs. Educational content is more important than showing off artistic prowess.
They show several self-promotional pieces on their website
If your ad agency's portfolio includes several ads and brochures they've created for themselves over the years, they're definitely outbound marketing specialists. An inbound marketing agency is far more likely to focus attention on providing valuable content you will be interested in consuming, ranking well in search engines so that content is visible, and sharing that content via social media channels. That's all the self-promotion they really need. Their portfolios are likely to be filled with case studies highlighting actual results their efforts have achieved for various clients.
They are prouder of their TV, radio, and print work than anything interactive
Not that there's anything wrong with an ad agency excelling in TV, radio, or print ads. But if that's where the bulk of their success has been, inbound marketing isn't very high on their priority list. Mass media advertising is really the exact opposite of inbound marketing: it's a shotgun effort, hard to measure, and focused primarily on "getting the word out there" instead of actually helping people solve problems. Inbound marketing isn't sexy -- there's no slick artwork, video or funny TV ads to show off. Viral videos go viral because they are funny, not because they sell.
Any inbound marketing strategy is an afterthought
These days, any company marketing a product or service needs to consider inbound marketing strategies like producing and spreading quality content, crowd-sourcing, building online communities, and building a list of subscribers. If these options only come up after a long drawn out proposal offering a barrage of ads and press releases designed to build "brand awareness," your agency doesn't get it.
Of course, this isn't meant to insult old-school agencies or downgrade the value of the traditional methods they know well. After all, mass media advertising is still a multi-billion dollar industry, and will remain such for years to come.
Just don't try and say you specialize in inbound marketing if you don't.
Share & Prove You Found It First
Signup For Updates
Like what you are reading? Receive articles directly to your email! We treat your information responsibly.
Subscribe