The last month has brought a couple of website launches, and we're excited to announce the launch of another economic development website!
Our latest project was a website redesign for Stafford County, Virginia Economic Development.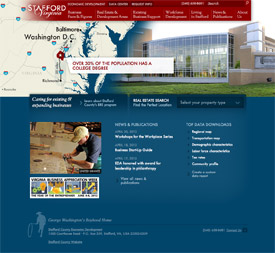 Stafford County Economic Development's old website had a dated look, and data was outdated and incomplete. The website also had a mash-up of economic development and tourism information; there was no clear focus.
The economic development group wanted a new website with a modern, progressive design, updated and expanded data and a better experience for website visitors.
The new Stafford County Economic Development website boasts a fresh design with a rich color scheme, compelling graphics and photography.
Tourism content has been moved to a separate, dedicated tourism website.
New features of the Stafford Economic Development website include a custom report/proposal builder; expanded/updated information about the county; a real estate listing system that pulls data from Virginia's economic development real estate system and integrates the data seamlessly with the County GIS system; a "featured development areas" section with maps and document downloads; and a news publishing system.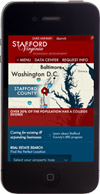 Additionally, the website is mobile-friendly, and automatically reformats itself to maintain usability and readability on tablets and smartphones.
Visit the website at GoStaffordVa.com.
You can see a "before and after" photo and get an in-depth review of Stafford County Economic Development's website redesign by reading the news release on EconDevWebsites.com.