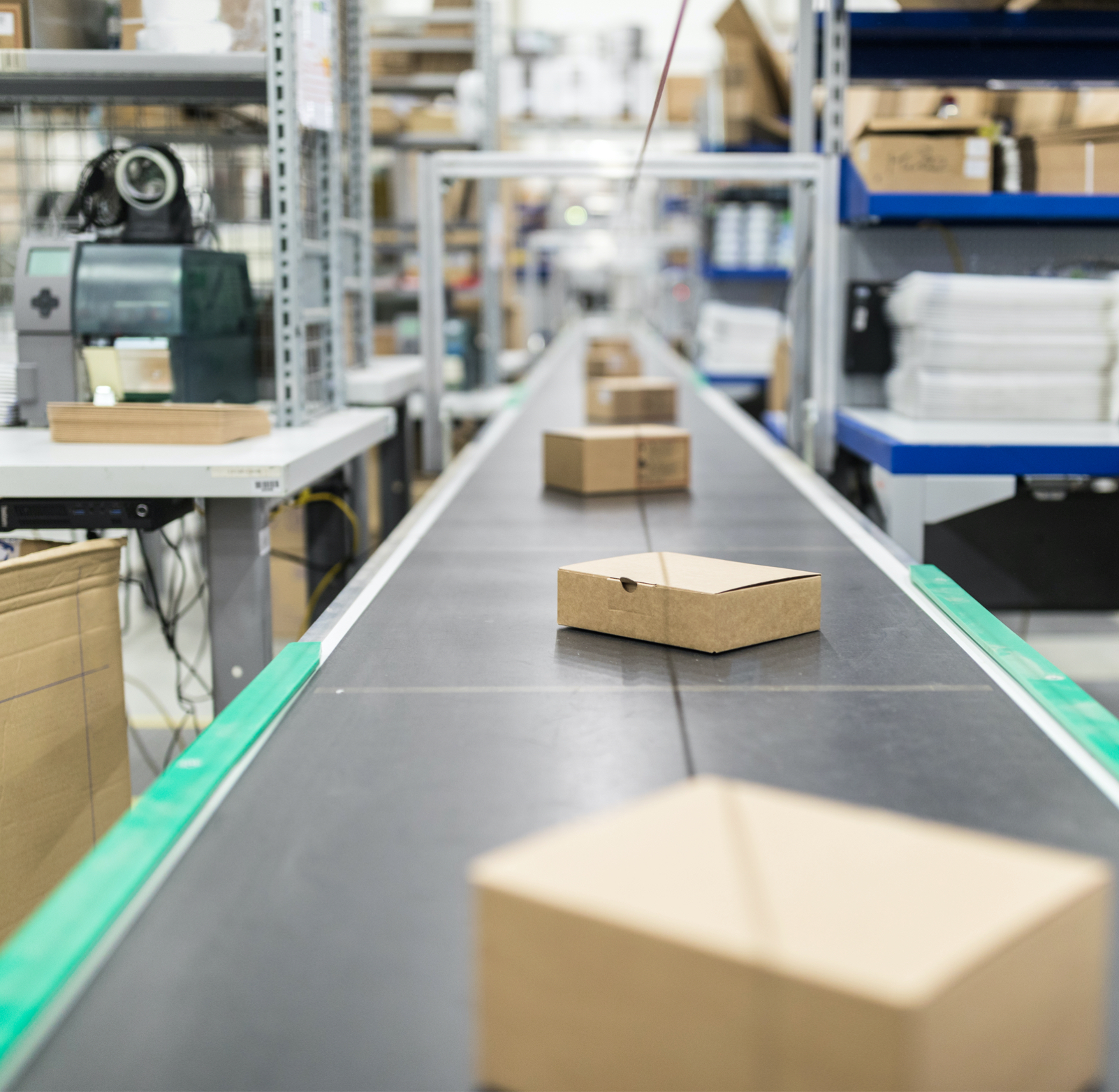 The Challenge
Impressive Company, Dated Website
When we started working with BoxLogix Automation, their existing website didn't do a good job of telling who they were, it wasn't generating qualified leads, and it failed to communicate this national company's immense success in working with some of the largest parcel providers in the world. The website looked dated and didn't visually convey the sophistication of BoxLogix Automation, a turnkey company that works to make distribution operations more efficient and profitable. Like many clients we work with, the copy on the site was vague and didn't sell their services.
In order for the website to be a success it had to:
Be set up to track visitors and leads through Google Analytics and HubSpot
Copy needed to be written to clearly communicate their capabilities, differentiators and value-add
Merge two websites (at the time they had BoxLogix Automation and BoxLogix Parcel)
Generate a certain number of leads and revenue within the first year (determined during our strategic planning meeting)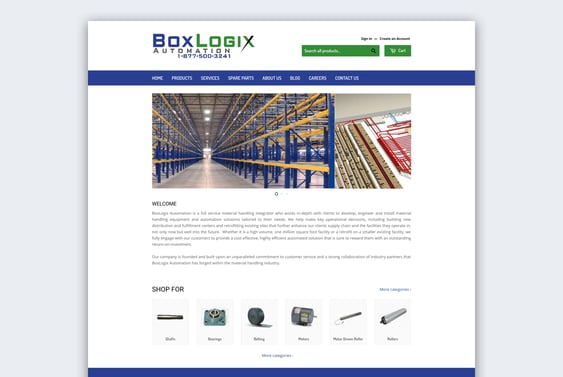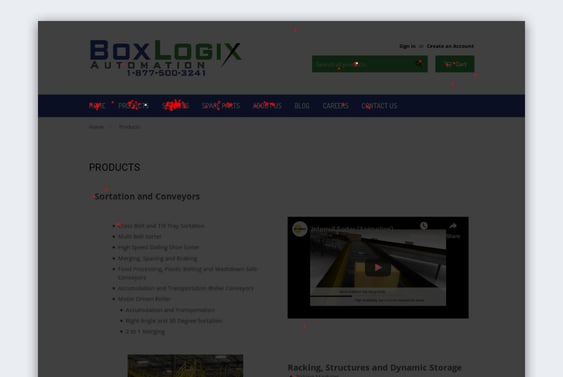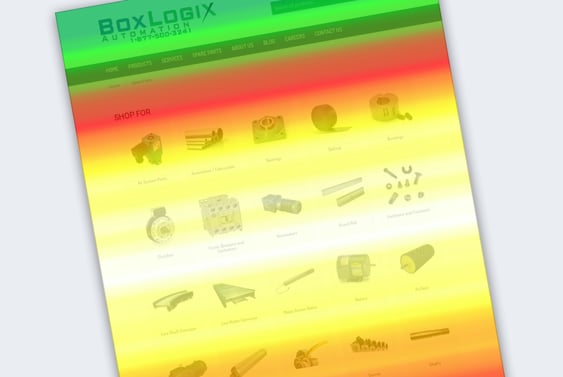 Antiquated Homepage
Like many websites we see, the homepage was not built with the user in mind. There were several images that rotated with no clarification around what they were, or what reference they held. There was a dense paragraph of copy that was more detailed that most users wanted to read. And there was a section that featured spare parts, but no tracking had been done to see what parts people were most interested in (and heatmap testing showed those that were of interest, weren't being featured on the homepage).
Lack Of CTAs Or Cross Navigation
The existing website didn't properly utilize Call To Actions (CTAs) nor did it encourage the user to visit other sections of the website. Confetti reports showed that outside of the navigation, few items were clicked; and those that were clicked, weren't clickable. These missed opportunities were just what we wanted to improve in the new site.
Don't Make The User Hunt For Information
Scroll maps and click overlays helped us discover what spare parts were of most interest to users, and how far they were willing to scroll while searching. Using this data, we could reorder the spare parts to help the user quickly and easily find what they came looking for.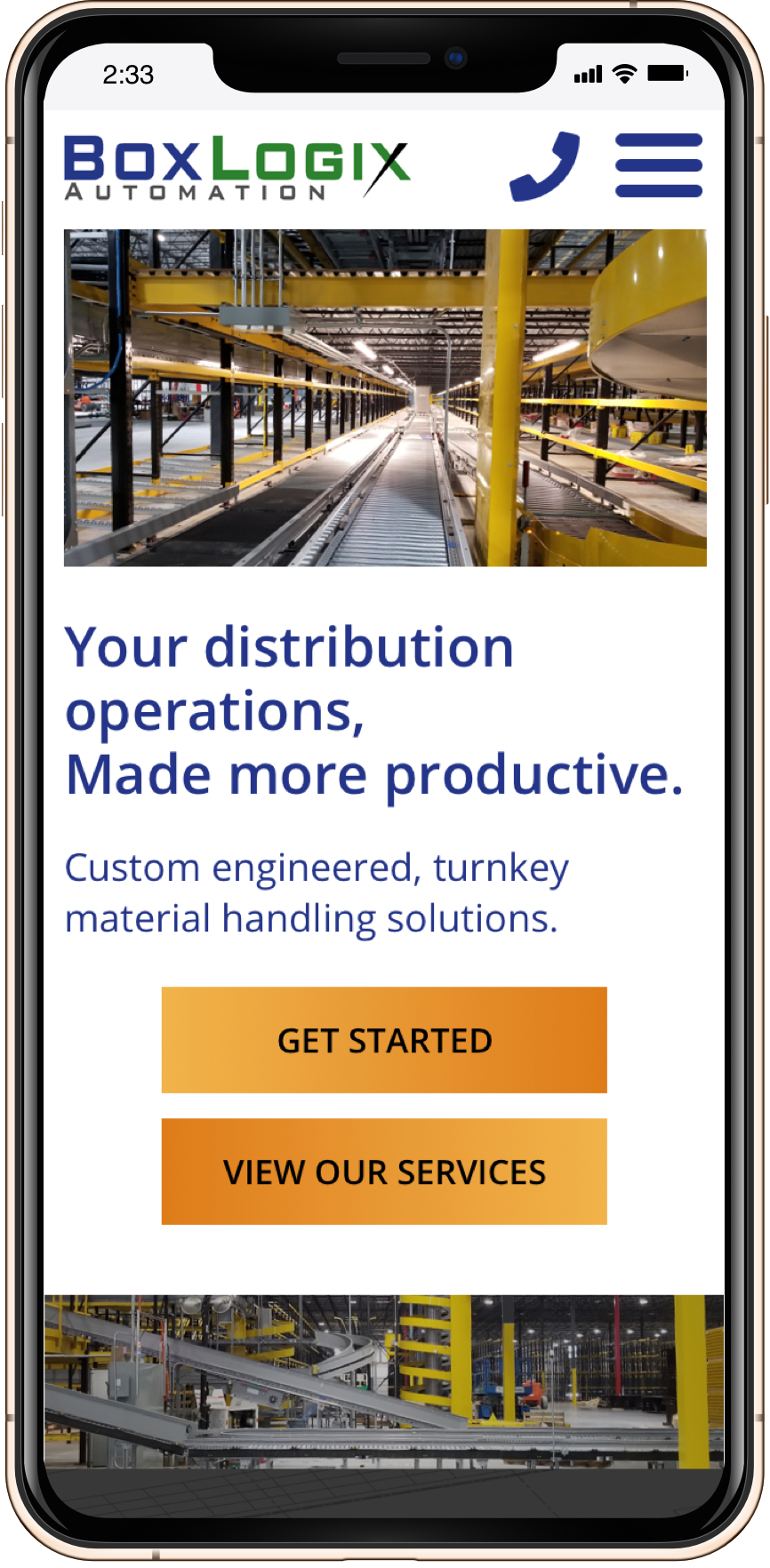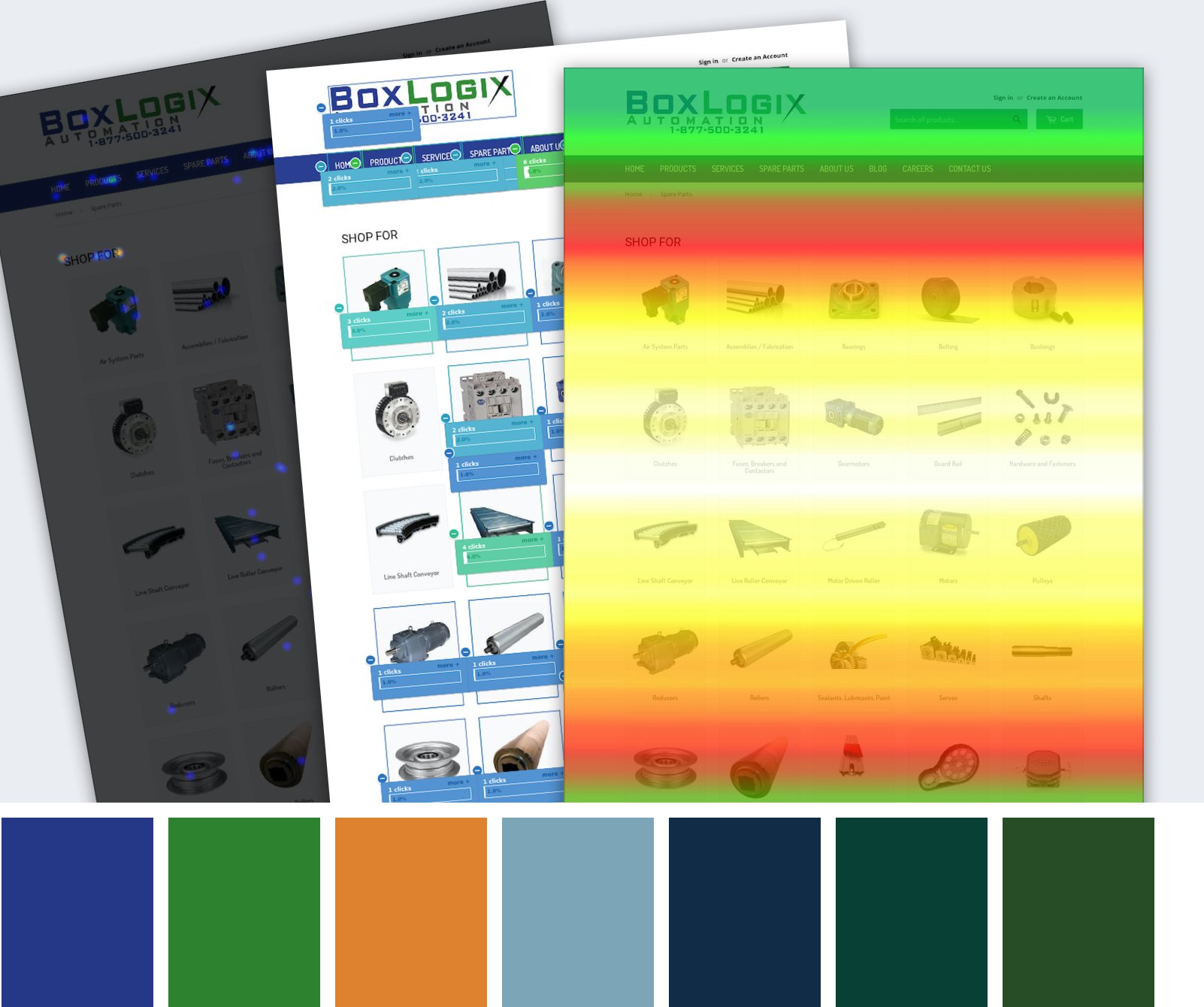 Tracking Through HubSpot
Because we built the BoxLogix website on HubSpot, it has allowed them to track exactly how many visitors, leads, and customers are coming from their website. This information allows them to track towards their original goal to hit a certain number of leads and revenue within the first year.
Content Strategy
We worked with the BoxLogix C-Suite to identify pain points in the existing messaging, and then developed a strategy/content outline for how to effectively communicate their value while speaking to the needs of the consumer.
Connect behavior intelligence gathering software on the website's backend
BoxLogix Automation needed more sophisticated data to support effective sales outreach. So, we built HubSpot marketing and sales software into the their website that offers them a daily Prospect Report. This tool gives deep behavior intelligence data about which users interact with their content and how.
The Result
A Total Makeover
The website was a complete overhaul from where BoxLogix was when they started this process, but the outcome was fantastic. They started with sparse copy, a dated design, and no way to compare their website traffic and conversions to business goals. The final product had copy that was written with the client's pain points and needs in mind. It was designed with a modern aesthetic and with tracking built in to give them the ability to measure results.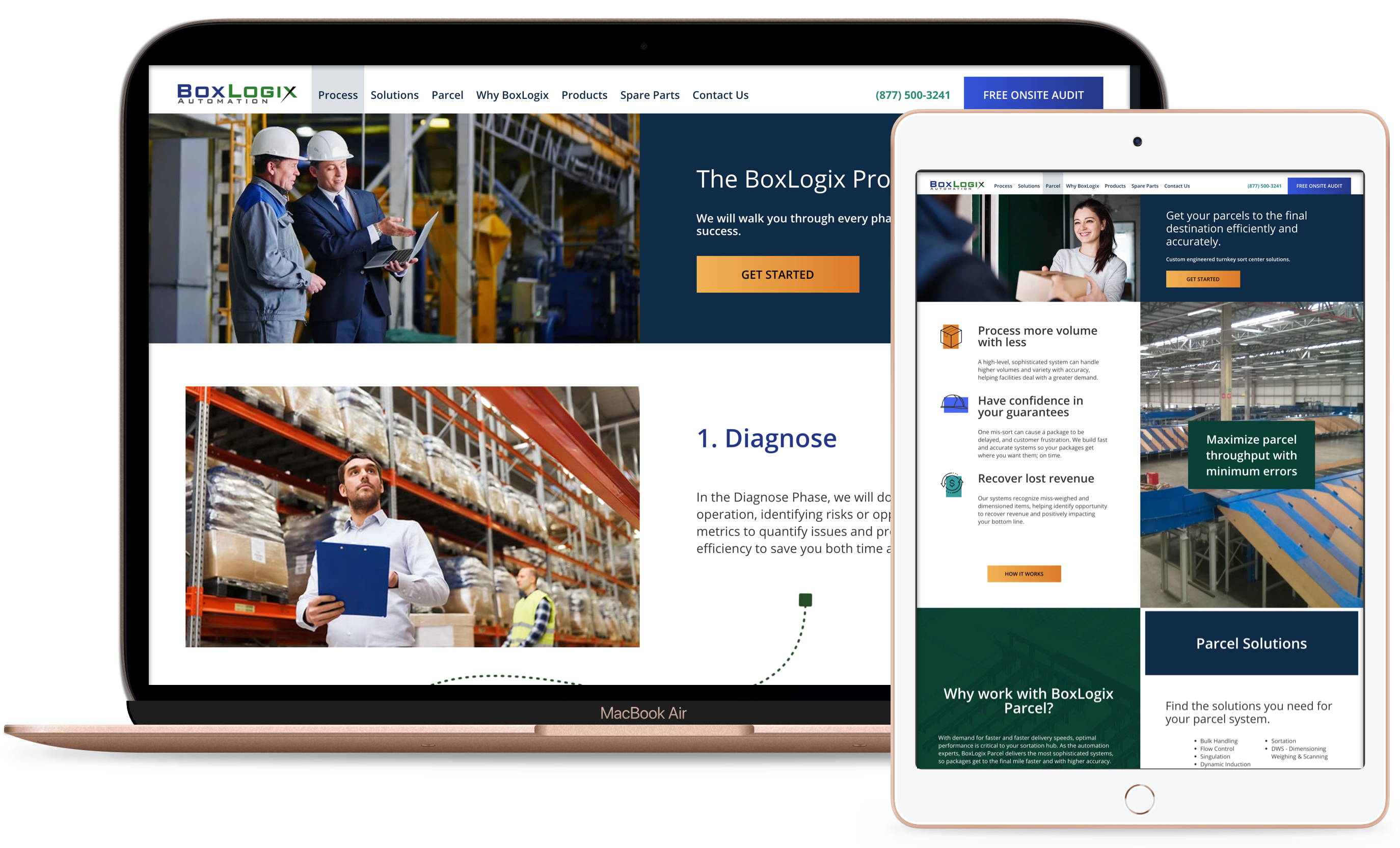 We merged the two divisions of their company—automation and parcel—to be on one site, which alleviated brand confusion for users, and proved their robust offerings and capabilities.
Within just a few months, the new BoxLogix website had generated the leads they needed to hit their target customer goals.