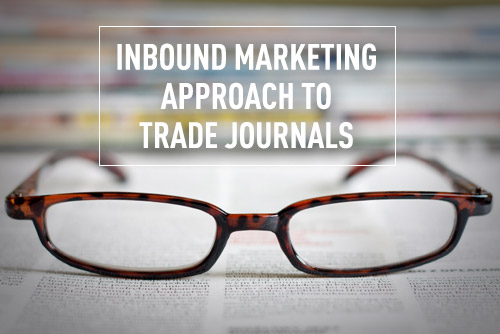 You're spending money on trade journal advertising, but is it working?
That's a good question. Many B2B companies wonder whether ads in trade journals are effective.
Have you thought about using an inbound marketing approach to your offline advertising?
First, let me explain what that means.
To generate leads on the internet, you attract people to your website, then convert them with content that gives them information they are looking for. Offline, though, many B2B companies place ads in trade journals and simply include their company logo and a tagline or phrase stating what they do.
We've seen success using inbound marketing techniques with offline advertising.
Because you have the ability to gather so much more information about potential clients on the web, we recommend getting people that view your trade journal ads to visit your website.
How to Take an Inbound Marketing Approach to Trade Journal Advertising
One great way to do this is to make the ad about a guide, whitepaper, video, webinar or other form of content that is relevant to the people that are likely going to be looking at the ad in the trade journal.
In other words, if you're advertising a healthcare staffing firm in a medical journal, you might have an ad that says, "A Physician's Guide to Locum Tenens" with "Download here" and a special website address where the reader can download the guide.
Taking an inbound marketing approach to your trade journal advertising requires more work than simply designing and placing the print ad, but it can yield better results.
This approach involves not only creating the actual print ad for the trade journal, but creating a landing page on your website for what you're advertising. You'll want to include a short form on the web page that people have to fill out to download the content you're advertising.
Listing a special web address in your print ad, like http://www.yoursite.com/content-offer that links someone to the landing page on your website helps you track the response of the trade journal ad.
Benefits of an Inbound Marketing Approach
Imagine being able to see exactly how many people visit your website from a specific trade journal ad, then being able to see the names, email addresses and phone numbers of the people who download your content!
Your sales team will be more informed because they will see what your prospect downloaded and how that the prospect found the content from the trade journal ad.
From a marketing perspective, you'll be able to attribute leads to your trade journal ad, helping you understand the cost per lead of that advertisement.
B2B companies that are generating more leads are finding ways to connect their offline advertising with their websites, and they are doing it with helpful, specific, informational content that addresses the needs of their buyers.
Do you need help thinking through how your B2B company might get better response and generate more leads from trade journals or print advertising? If so, we'd invite you to request a marketing opportunity review here.
Share & Prove You Found It First
Signup For Updates
Like what you are reading? Receive articles directly to your email! We treat your information responsibly.
Subscribe