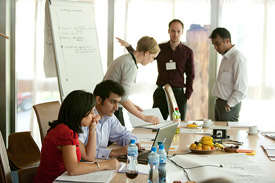 In a world where everyone has access to the Internet (and where 78 percent of users use it to research a prospective investment or purchase), every prospective client that visits your website has a back-up option A, B, C, D, and beyond.
So, how does that impact the way you market your business? What about the resources you provide prospective clients? They can make or break a website user's decision to contact you or keep searching.
Enter: the case study. The perfect opportunity to display your company's obvious and not-so-obvious attributes, a platform that screams "read this and hire us." Many B2B companies post them on their website as an afterthought, even though a killer case study can turn a search into a sale. Read on for four characteristics of a killer case study and how to make sure yours pass the test.
1. It's Visually Appealing to Your Target Audience
While your case study doesn't need to be a visual tour de force, your prospective customers want to know that you're serious about helping businesses succeed and that you take the time to do the work right. It's not just your choice of words that will indicate to your prospective client that you know your stuff and that you can help them with their problem.
To that end, spend time on the graphic elements of your case study to make sure you're setting the right tone. Depending on your industry, aim for visuals that define your approach as professional, timely, and insightful. Maximize every visual element down the color palettes and photographic choices to help prospective customers see that you understand their business, their industry, and their needs.
2. It Clearly Identifies the Problem
What's worse than a poorly designed case study? One that has you weeding through the introduction, the outline, and the conclusion, looking for the customer's original problem.
Instead of leaving it to a reader to decide if the case study clearly addresses his or her problem, say it out loud and upfront, and if possible in the title.
Visitors to your website are reading case studies to see what kind of problems you have successfully addressed and to see if there's a link between their problems and your solutions.
Are you the best in the industry at chemical processing? Highlight common problems in that industry and feature case studies for each of those problems. Make it clear that you understand your customers' problems and always identify the correct solution.
3. It's Short and Sweet
No one has spent hours sorting through case studies looking for the answer to a particular issue. Your potential customers are strapped for time, and expect well-organized case studies that get to the point.
More and more, we're finding that one-page case studies are the most effective lead generators across a number of highly-specialized industries (though more detailed case studies can be better at actually closing the sale once you've made their "short list"). Write more than a one-page synopsis and you're risking giving your potential customer needless background information.
In order to write a potent case study, keep it short and sweet: In clear, professional, succinct terms, identify the situation, including some detail about the issue, how you analyzed the situation, and what the results were.
Powerful visuals and powerful copy drive the point home while respecting your potential customer's time and energy.
4. It Highlights Unique Expertise
The core of an effective case study is not just that you listened to your customer, made the best recommendation possible, and solved their problem. Of course, those are all good things. But a killer case study will show that you were able to do this because of your business's unique industry knowledge or process.
Your potential customer has to be able to see themselves in place of a customer in your case study. After reading a case study, the potential customer should be completely convinced that if they are to solve their problem, contacting your company is worth their time.
Let's apply this to your situation. Take a look at your company's most recent case study and compare it against this rubric. Is it visually appealing? Do you clearly express how you addressed your client's problem in a clear, concise way? Is it clear that no one else could have provided this solution?
Has your company used case studies to win business? What aspects do you find most valuable? Please share your feedback in the comments below.
Share & Prove You Found It First
The Digital Slate
Looking for timely digital marketing and sales insights to grow your business? Subscribe to our monthly digital newsletter for marketing professionals.
Subscribe