Pivoting During A Pandemic
An aligned marketing & sales strategy delivered a 12X ROI, 67% increase in tours, 33% increase in members and accelerated pipeline velocity in 2020, despite being directly impacted by COVID.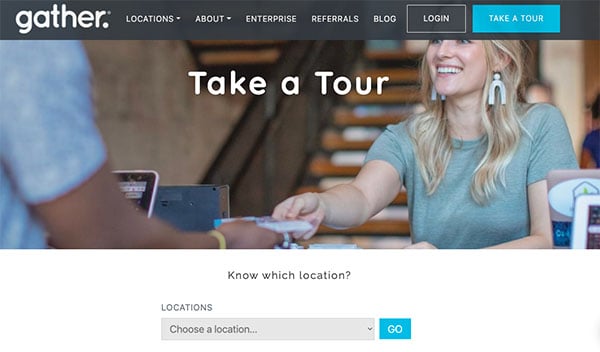 Only Targeting "Ready to Buy" Leads
Gather was only targeting "hot" leads who were ready to sign a contract on the spot. Since the only way to capture leads on their website was by scheduling a tour, they were missing out on a pool of leads who were not as far along in their purchasing journey.
Lack of Sales Automation
Community Managers are tasked with maintaining their location, keeping current members happy, and wearing the "sales hat" to bring in new members. Without automation to drive efficiency, they were consistently strapped for time and unable to meet their sales quotas.
Unable to Connect Marketing to Sales Revenue
Marketing is only as effective as the sales results it drives. Gather's reporting was distributed across multiple platforms, making it nearly impossible to efficiently connect the dots and know which marketing tactics were producing the best results.
" We engaged Whittington Consulting to help us drive more traffic to our website, turn that traffic into tours, and to measure success. They developed processes and systems to use HubSpot within our daily operations and feed into our sales process. Whittington Consulting was there every step of the way, and always willing to help. They always followed through with everything they said they were going to do." James Crenshaw, Owner & Chief Marketing Officer of Gather Workspaces
Our Solution
Generate Leads With Marketing That Converts, Sales Automation, and Real-Time Reporting
During our engagement, the unthinkable happened, and COVID-19 hit Gather's business hard. Their model is built on people being together, in-person. Like so many businesses, we had to pivot to navigate the obstacles of 2020. With the volume of prospects suddenly lower, it became even more important to nurture and convert leads at a higher rate. To enable this, we implemented HubSpot to support our inbound marketing and sales enablement strategies.