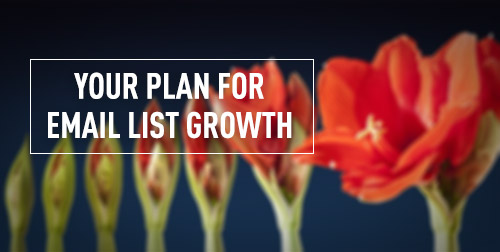 You've probably heard ideas for doing all sorts of creative and spicy things to email marketing campaigns like segmenting them, increasing their open rates, and keeping customers subscribed to them. But before you can do any of these things, you need to grow your email marketing list.
If you're just getting started building your email marketing list, or perhaps just looking for a refresher, the solution to this challenge is similar to all of your other marketing challenges: you need to apply consistent and steady effort to building your list.
The answer lies in our 6-month list-building challenge: plan to try one of these ideas each month for the next 6 months and quickly stock your email marketing list with highly-qualified, engaged email marketing contacts.
[Tweet "Try one of these ideas each month for 6 months to grow your #email #marketing list."]
1. Add an optional "Subscribe to Our Blog?" field to your website lead forms.
There are two reasons you should get started with this one first: it's the easiest update to make (simply update your website to include this field), and the longer this option is there, the more leads you'll be able to get from it.
Users who are interested in downloading your premium content offers are also likely to find value in your email marketing list. Make it even easier for them to engage by offering a "Subscribe to Our Blog?" option on your contact form.
[Tweet "Grow your #email #marketing list by adding a subscribe field to your lead forms."]
How well does this work, you ask? We've over doubled our own email marketing list in just 6 months with this tip alone.
2. Advertise your list with specific calls to action.
"Email newsletter" means different things to different people. Update your online and offline collateral to be sure you're specific about what your email updates area about, how often you send them, and what subscribers can expect to get out of them.
"Sign up for our email newsletter," is not as compelling as "Business leaders sign up for our email newsletters to receive weekly advice for growing their business." Create your own call to action with a formula like this: "[Your target audience] sign up for our email newsletters to receive [frequency] advice for [value you provide]."
3. Host a virtual event (like a webinar) with an in-demand industry speaker and collect emails at registration.
Grow your list with like-minded people by gathering like-minded people for an exclusive event. Book a speaker or, if you have a strong following, host an event yourself, on a topic of high interest and importance to your audience. You can also collect email addresses at signup if you are giving an online sales presentation or informational session.
Deploy low-cost event technology like Google Hangouts or GoToMeeting to host a live or pre-recorded webinar that offers a clear value to your prospective email audience.
Add incentive for signup by letting attendees know you'll email a recording of the webinar after it's over.
4. Swap promotional opportunities with a trusted partner.
You can swap promotional opportunities with a trusted partner within your industry to gain access to a fresh, new audience. Just make sure you a prospective partner that's relevant to your target audience, and pay attention to the potential partner's size to make sure it's an equal exchange for both of you. They might be willing to disclose their email list size before you agree to work together.
Make a list of potential partners within your industry (or partners with complementary products/services), then develop an offer and send it with a personal note. You could exchange advertising opportunities by way of a guest blog posting on each other's websites or co-hosting the development and publication of an infographic or creative project. It's a win-win way to gain access to a motivated, interested audience that may not have had the opportunity to sign up for your newsletter.
5. Send out personal invitations.
In the digital age, we often underestimate the power of a personal invitation. Throughout month five of this challenge, take time to write one email per day personally inviting your contacts to sign up for your email newsletter. Include personal details -- gleaned from their LinkedIn profile -- to express why this would be a worthwhile experience for them. Politely and energetically express your enthusiasm and give them a reason to join in.
6. Plan or attend a live event and connect sign-in to your email marketing list.
As you attend networking activities, trade shows or conferences each month, you'll surely be getting a stack of business cards. After each event, send a personal email to each contact. In the email, include some reasons they should subscribe to your blog, remembering to tell them what they can expect to learn, how often they will receive it, and how many other people in their industry already benefit from reading.
Your email list-building opportunities are only as limited as the effort you're willing to put forward. Add these list-building strategies to your to-do list to see a dramatic improvement in just six months.
Have any ideas to add to this list? Which do you think will work for you?
Need help building your email list, or unsure of how to get more business from your email list?
Share & Prove You Found It First
The Digital Slate
Looking for timely digital marketing and sales insights to grow your business? Subscribe to our monthly digital newsletter for marketing professionals.
Subscribe