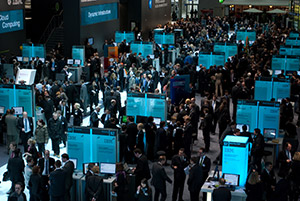 If you're planning to attend a B2B trade show event or traditional marketing event, you've no doubt already got your idea notebook ready to jot down ideas for blog posts, and you're planning to put together those pre-show promotional ideas.
But we've got one more idea for you -- take your thoughts, ideas, and networking skills to Twitter.
Social media is a powerful tool for networking at a trade show.
Since Twitter outperforms LinkedIn and Facebook 9 to 1 in B2B lead generation, it's this platform that should jump to the top of your list. Just grab your phone and login to your company Twitter account, then use these tips craft the perfect B2B trade show tweet.
Here's an example, and 5 characteristics that make it effective:

1. Use Photos With Personality
First impressions are everything, and the first thing a Twitter user will see is your profile and cover photos.
Use this opportunity to display a platform-appropriate image that's professional, but also personal and memorable.
When your photo looks approachable and personable, users will be enticed to follow to see what you have to say.
Avoid using your corporate suit-and-tie photo and try to incorporate a natural or bright background. Make your face (and smile) as clear as possible.
For three examples of great B2B Twitter profile and cover photos, check out @RickWhittington (Chief Strategist of Rick Whittington Consulting), @JSLentzClifton (Marketing Director for Billians HealthDATA), and @DrFriedenCDC (CDC Director, MD and disease detective).
2. Use 1 or 2 Hashtags
The effectiveness of your tweet heads downhill when you use more than two hashtags, so stick with two or fewer. And since you have limits, the ones you do use need to be strategically chosen and effective.
First, aim to have one hashtag that is on-point with your topic so as to include as many non-attendees as possible.
In the example above, we used the hashtag #healthcare to tap into Twitter users who are following that topic and who might want to join in the conversation.
Second, research and use hashtags that have been organized by the event producers to help you network with other attendees.
In the example above, we used the fictitious #HealthcareSummit2014 to represent an event-promoted hashtag that helps you catch the attention of other trade show and event attendees.
Pro tip: When you attend a trade show, check their website. Sometimes, they will list a hashtag for the event.
3. Include Others in the Conversation
Much of Twitter's effectiveness lies in its live-action networking opportunities. Therefore, directly include one or two others in the conversation whenever possible.
Not only are you starting a conversation with new contacts, but you also may attract the attention of that contact's followers.
However, make sure one of these two situations fit the bill to avoid sending a spammy vibe: 1) You know this person and the topic is appropriate for their commentary, or 2) You know this person has a vital interest in your industry and would be interested in your tweet.
4. If Possible, Phrase As A Question
Particularly motivated Twitter users will comment or share things they find interesting regardless of whether or not they've been invited to do so. You can help encourage not-so-motivated Twitter users to engage by phrasing your fact, thought, or tidbit as a question.
Not only does this invite people to respond directly (Yes-or-No questions are easy to answer), but it also allows users to share this question with their own followers if the topic is interesting or pertinent enough.
5. Get More Space with a Link-Shortener
Twitter has a 140 character limit to its tweets, including hashtags and links. That means that every character in your tweet needs to work hard!
When you share a fact or quote from the trade show event, you'll have more room for people to retweet and engage with your tweet without cutting off your message if you use a link shortener like Bit.Ly or Goo.Gl to free up space from long URLs.
These free tools help you keep your links clean-looking and clickable on mobile and in your follower's Twitter feeds.
Ready to try out a B2B trade show tweet of your own? Draft one out in the comments below and we'll let you know what we'd tweak to make it perfect!
Share & Prove You Found It First
The Digital Slate
Looking for timely digital marketing and sales insights to grow your business? Subscribe to our monthly digital newsletter for marketing professionals.
Subscribe