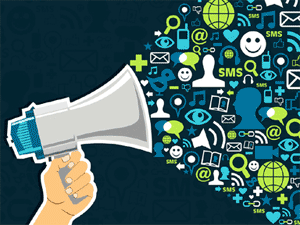 One of the challenges we hear from companies who are just starting to blog is not only struggling with what topics to blog about, but also a hesitancy that by blogging they'll be sharing too much, or giving away proprietary information.
The reality is that you don't have to talk about specifically about confidential information on your blog. The idea for writing a blog is not to give away all of your secrets, but to show transparency into how your company operates, answer customer questions as best as possible, and give a voice to your brand. Corporate transparency is extremely valuable in building relationships with potential customers and also building loyalty with current customers.
I'll share a real life example of how transparency can bolster customer relationships.
"They won't even let me in the factory!"
Recently, while at a trade show with a client, I was privy to a conversation between the client and one of their customers. The story the customer told really brought to life the notion that corporate transparency can create a lasting relationship and build valuable trust.
This particular customer was sourcing a large volume of custom made materials from our client's competitor. When he spoke about his relationship with the competing company, he said there really wasn't much connection. Because this was a major project, and a custom solution was required, he wanted to be involved in the development process. When he visited the company to work with them on the production, he said that the company barely let him past the front door. He wasn't able to see the inner workings of where and how his product would be made. He never received the the insider look into their operations that he was expecting as a partner. He left without building the affinity for the company that could have been cultivated.
Eventually, the customer started to experience issues with variations in quality of the material and some delivery delays. When this happened, he was unforgiving and quick to seek out another provider. He mentioned that he didn't feel any loyalty or ties to the company and therefore had little patience when issues arose.
The customer's experience with the new company was vastly different. From the beginning, the company listened to what his needs were and collaborated with him to come up with a solution that met his needs. During that process, the company demonstrated a high level of transparency as they walked him through their processes and showed him from start to finish how they would create his product. After these engagements, the customer felt highly involved and had built a strong relationship with the new company and its people. If an issue comes up down the road, how much more likely do you think this customer will be to try to work out the issue with the provider and give them another chance?
That real life example correlates closely to how you should treat blog content on your website.
Listen to your customers
If you pay attention to what your customers or prospects are asking for, your content is going to be more relevant. If you constantly blog about topics that are only interesting to you or self-serving in promoting the goals of the company, you're going to quickly lose the interest of your readers.
Be transparent
Again, you don't need to give away the "secret ingredients to your recipe." You don't need to show detailed photos of equipment you've invented to produce a product. However, people love companies who are transparent and are willing to share an insider look at how they operate. Take for example this ink company who created a "behind the scenes video" on how their ink is made. The video is beautifully made, but most importantly, it's engaging. As of this writing it has close to a million views. It gives the customer the feeling that they know the company more than before, and the passion and toil that this company puts into their product is evident in the video. That affinity can be incredibly powerful.
Turn customers to evangelists
Effective transparent content from your company will strengthen existing relationships with customers. Companies who engage their current customer base through regular content updates are much better positioned to upsell those customers to new products or services as they are released. The stronger relationship you've formed with your customer base will also encourage additional referral business because they know the insider view of how your company works.
Don't be afraid to open up on your blog. Customers will appreciate the transparency and will build stronger ties to your company.
Share & Prove You Found It First
The Digital Slate
Looking for timely digital marketing and sales insights to grow your business? Subscribe to our monthly digital newsletter for marketing professionals.
Subscribe