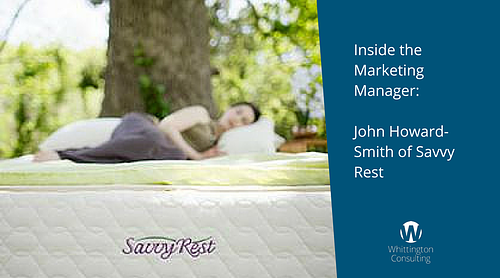 This week we'd like to introduce you to John Howard-Smith of Savvy Rest. John will be kicking off our Inside the Marketing Manager series, an every-once-in-a-while look into the successes and challenges of marketers at successful companies.
John comes to us from Savvy Rest, an organic mattress manufacturer in central Virginia. Savvy Rest operates an international dealer network of mattress retailers and distributors that sells both direct to consumer and to businesses.
Here's an inside look at how John organizes Savvy Rest's digital marketing presence and navigates the challenges that come with the territory:
Q: Could you share a little about your business and your customers?
John: We manufacture customizable, organic mattresses here in central Virginia. The mattresses are generally comprised of an outer casing made with certified organic wool and certified organic cotton and adjustable inner 3" thick layers of natural latex rubber in densities that range from soft to firm. The outer casing has a zipper which allows the customer to choose what layers of natural latex they'd like to use inside their mattress and to make changes to their configuration after purchase. We also have an array of organic mattress and bedding accessories as well as baby and pet products.
Our primary sales channel is through our wholesale network. We have over 200 dealer locations in the US and Canada that sell our product. We also do a small amount of retail; we have four stores that are owned by Savvy Rest--Berkeley, CA; Vienna, VA; Rockville, MD; Charlottesville, VA. An even smaller percentage of our sales comes from customers that purchase directly from Savvy Rest either over the phone or online.
We are also featured in a few eco-resorts and B&Bs around the world. A few highlights would be the Hamanasi Resort in Belize and Oohla Bean near Austin, TX.
Q: What challenges come with marketing to your customer segment?
John: We have all sorts of customers now. When we first got started, the market was extremely narrow and limited almost exclusively to those dedicated to living a natural life and eliminating chemicals from their home. We still cater to those customers, but the reach is much more broad.
In general, though, most of our customers have a concern about exposure to toxic chemicals and they are very discerning so we need our products to hold up to even the most severe scrutiny. We must get independent, third-party agencies to certified our product inputs and focus on sourcing only high-quality materials. But quality, organic materials and all things that come with them do not come cheap--and growth also increases expenses--so there is a constant struggle to maintain integrity and produce quality, organic products while also keeping products affordable and accessible.
Q: What kinds of strategies has your company implemented to overcome these challenges?
John: We post all of our independent testing results and certificates on our website so customers can review them at their leisure. Our website is also designed to be encyclopedic and transparent; we want our consumers to feel that they have been educated when they visit SavvyRest.com whether or not they purchase from us. This helps us maintain our position as a leader and an authority in the field and helps us to build and maintain trust with our customers.
We're also always designing and considering new products in a range of prices to meet the needs of all our customers.
"Our website is designed to be encyclopedic and transparent; we want our consumers to feel that they have been educated when they visit SavvyRest.com whether or not they purchase from us."

-John Howard-Smith
Q: What kinds of strategies have your company implemented specifically to get more website traffic?
John: A big reason we have such great website traffic is what I mentioned before, that we've created a robust resource for customers and have been around for long enough to be viewed as an authority in our niche. If people find what they're looking for, spend time on our site and visit several pages, Google will favor our site and it will rank better.
We also have two staff that dedicate almost all of their time exclusively to our website and online efforts to increase traffic. These efforts include, but aren't limited to: Google advertising, optimizing our website to produce better search results, creating content, etc.
Q: Which of those strategies were the easiest to implement? Which of those strategies showed the most success?
John: The most successful strategy to increase traffic is to create relevant, interesting, and quality content. This takes a lot of time, but has the biggest impact and sets you up for long-term success. The easiest things aren't always the most effective, but manipulating keywords, tags, and headlines are obviously pretty quick and simple and can impact the results you'll get. It's imperative to understand what your customer is looking for and, to some degree, craft your content around that. You could have the highest quality content in the world, but if no one cares about it or sees it, it doesn't matter all that much. That said, a major mistake would be to put up junk content.
"It's imperative to understand what your customer is looking for and, to some degree, craft your content around that."

-John Howard-Smith
Q: What processes does your company have in place/tools do you use to make your marketing more efficient?
John: We have a marketing team that meets about every two weeks. These meetings are organized and we reference a running spreadsheet tracking our progress on projects and ongoing marketing, SEO and content strategies.
For complicated projects, we'll sometimes use project software like SmartSheet, which helps us stay organized.
When we have tasks that come out of a marketing meeting, we always want to assign "Who?" and "By when?" to increase accountability and make sure we don't get behind on projects.
Q: How do you keep your CEO engaged in the results of your marketing efforts?
John: We have our CEO sit in on marketing team meetings and participate as a full member.
Q: Which blogs and publications do you make time to read to help you keep on top of upcoming marketing trends?
John: In the furniture industry, we'll read Sleep Savvy, Furniture Today and a few other publications. For web trends, we'll keep an eye on Mashable, Smashing Magazine, Social Media Examiner and Search Engine Watch, among others.
Thank you for sharing your insights, John!
Share & Prove You Found It First
The Digital Slate
Looking for timely digital marketing and sales insights to grow your business? Subscribe to our monthly digital newsletter for marketing professionals.
Subscribe