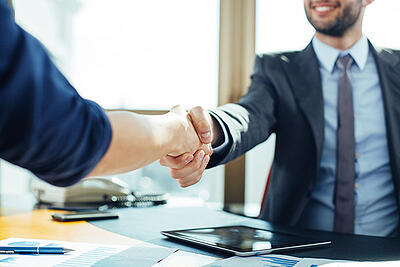 LinkedIn is an invaluable tool in the world of B2B sales. It's very popular among people who work for B2B business, it's convenient to use, and it's free.
But the more popular the platform becomes, the more likely it is that you will have to compete for the attention of your best prospects. Fortunately, there are still a few hacks that you can use to cut to the front of the line and create relationships with potential customers.
Here are six LinkedIn tips for rocking your B2B sales goals:
1. Clean up your profile before you contact.
Profiles that are empty or "standard" aren't as interesting as those where people put more time into them and make them useful. Take time to build a profile that prospects will want to connect with or message with. Craft a headline that explicitly states how you help people. Decorate your profile with specific examples and case studies related to your company or products. Use a professional, bright, and friendly photo-- nothing grainy, hard-to-see, or low quality. And ask your happy customers for recommendations so that the prospect doesn't have to take your word for it.
2. Break the ice like a pro.
LinkedIn's InMail is a great way to "cut in line" and speak with important prospects directly. Whether you go that route or take your chances on introductions and "cold connections," you can still break the ice like a pro by crafting an appealing note.
First, don't get into business right away. Provide a personal reason for connecting, or ask a question that is slightly related to business such as a book recommendation or a question related to a recent blog post by the person or the company (or reword an appropriate customer persona question). Include an identifying detail about yourself that would be easy to remember or interesting and ask to connect to stay in touch. Did you and the contact attend the same college? Work at the same company?
Over time, post regular insights about your industry with a personalized opinion or question that can draw out your connections to engage.
3. Link to your own content to dig deeper.
As you feed frequent updates from industry sources, include links to your own blog posts, too. Not only will this send traffic to your company's website and possibly hook a prospect with a call to action, but it will give your connections an opportunity to hear your voice and personality in yet another setting. This directly contributes to the sense of building a relationship and authority within your space.
4. Don't limit your connections to job titles.
It's important to focus your efforts on connections that can help you meet your sales goals, but don't put on a blinder to connections simply because of their job titles. Turnover is going to happen in every industry, and you'll find over time that gatekeepers are valuable, too. Connect with them to get information about the company and build your network. You never know who is in line for a promotion, and they'll want to bring their own arsenal of connections with them when they rise within the company.
5. Speaking of turnover, watch your contact's activity.
New leaders have new budgets and often an open attitude towards changing things up and trying out new technologies. Keep an eye out for changes and advancements within your network with the time-at-job information available to you on each connection's profile. Note connections that have obvious patterns (such as a promotion or job change every two years) and time your strategy accordingly.
6. Tap into LinkedIn Groups, not just your feed.
Building a network is a great way to create 1:1 relationships and build passive interest. However, you can also use LinkedIn to actively develop relationships through the groups feature. Read our guide for getting started on LinkedIn groups and follow it with our tips for making the most of LinkedIn groups.
The real trick to finding success as a B2B sales rep is to try as many LinkedIn tips as you can until you find out what works for you. Hopefully these six ideas will set you off on the right track to meet your goals this quarter.
Finally, if you're looking for a resource on using LinkedIn for B2B sales, you may want to read "The Inbound Way to Use LinkedIn" by some colleagues of ours.
Have you cracked LinkedIn networking for B2B sales? Share your tips in the comments below.
Share & Prove You Found It First
The Digital Slate
Looking for timely digital marketing and sales insights to grow your business? Subscribe to our monthly digital newsletter for marketing professionals.
Subscribe