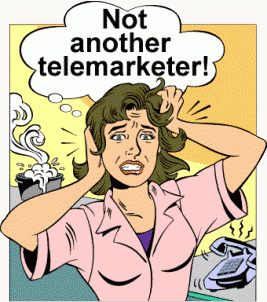 B2B sales is a completely different animal than it was just ten years ago.
We now live in a world where information is at the fingertips of everyone all the time. Your prospects know more about your company and products than you might think thanks to search engines, and they've already compared and contrasted your offerings with those of your competitors before they even show up on your radar.
So what does this mean for your B2B sales team?

The Old Way
For decades, the standard business to business model for sales teams around the world involved:
Buying leads
Collecting leads from the marketing department
Identifying and locating decision makers
Cold calling to connect
Developing and giving a sales presentation, then following up to close the deal
The result? A minuscule success rate, even if you could get through the cold call.
These days, that entire sales process has been turned on its head with the incredible shift toward content marketing.
What if I told you that you could "hang up" the cold call routine and attract prospects instead?
How Website Content Is Revolutionizing B2B Sales
To compete in today's business world, your sales team needs to embrace this move toward B2B content marketing and take a full share in producing, spreading, and leveraging content to connect with prospects, educating them about your products and services, and convincing them to do business with you.
Your company website really can attract new prospects for your sales people to work. Your website can also become a powerful sales closing tool.
How do you revolutionize your B2B sales team?
Give them something to work with – Publish a lot of information on your website. Anything and everything your prospects may want or need to know about who you are, what you do, and how you do it. You don't need to give away proprietary secrets, but you do need to cover all the bases thoroughly enough that you can build trust in the minds of those you hope to sell to. Think of your website as your top salesperson: the most knowledgeable and helpful employee you have.
Make it a sales tool – Encourage your sales team to liberally share helpful links to content on your website with prospects and customers. This can be done through follow up emails, on sales calls or even on social media. In addition to handing out business cards and brochures at your next trade show, hand out links to your blog posts or free guides you develop for a product application.
Make your sales team brand evangelists – Encourage them to develop thought leadership by sharing your content via social networks where your prospects hang out, and to endeavor to use your content at every point of the sales process. Deliver new content to them through email so they know when it's ready to share.
Get them involved in content creation – Invite the sales team to participate in the content creation process by brainstorming ideas, sharing questions they hear from prospects and customers, and insights from their experiences dealing with customers. Getting them involved in content creation helps secure their buy-in in the content marketing effort, and will likely improve the quality and diversity of the content being created.
Times are certainly changing for your B2B sales team, but that doesn't mean your team can't still put up some incredible numbers with the help of great website content!
Share & Prove You Found It First
The Digital Slate
Looking for timely digital marketing and sales insights to grow your business? Subscribe to our monthly digital newsletter for marketing professionals.
Subscribe