HubSpot recently published an excellent study on topic clusters, the latest trend in content marketing. In it, they deem topic clusters "the next evolution of SEO." Other articles have called topic clusters "the new keywords." I've even seen the tactic referenced as an "earth-shattering" evolution of inbound and SEO.
So - what are topic clusters? Are they worth your time or just another passing marketing fad? Let's get into it.
What Are Topic Clusters and Why Should I Care?
Without going into too much detail, a topic cluster is a way of grouping content. A topic cluster consists of a core topic "pillar page" and related subtopic content pages. The content pages link back to the pillar page and also to each other.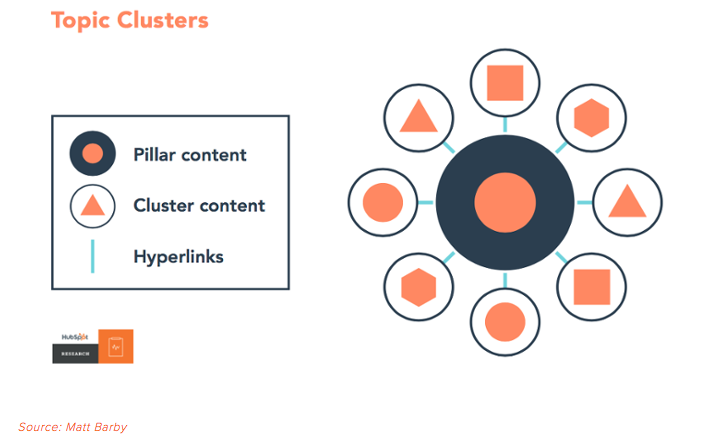 A pillar page is a long-form content page that is rich in information and covers a broad topic. In the HubSpot article, the pillar page topic example is "content marketing."
The cluster content pages cover more detailed topics that fall under the umbrella of the pillar page. In the HubSpot example, the content pages include things like "blogging," "buyer personas," and "content planning."
This seems to be a great way to group content and does a better job of organizing concepts, but the reason why it's so effective goes beyond that.
Google RankBrain, Machine-Learning and Keywords
The topic cluster tactic evolved as a response to a shift in how search engines function. Within the past couple of years or so, we've seen Google shift its focus to machine learning, which simply means that a computer teaches itself how to do something rather than being prompted by a person or program. Using its machine-learning artificial intelligence system called RankBrain, Google can now pull better search results based on synonyms, abstract concepts, and natural language. Let's see this in action.
Let's take a simple query a Bon Jovi fan might have. This person might want to know his age and so consults Google for the answer. As search engine users we've learned to ask questions in short, fragmented phrases. This person might type in "Bon Jovi age" and get this search result.

But, now Google has become smarter. It will produce the same search results if the query is asked in a more natural way. This means that if the user were to type his query in a way he would speak like "How old is Bon Jovi?" Google would produce the same results.
Focus on relevant topics, not just keywords
What does this mean for content marketers? This means that they should focus on becoming the most relevant content resource around a given topic rather than solely focusing on keywords. Ranking for a keyword based on exact-match is no longer going to work, because Google can now understand the intent behind a search query and will show results based on the site that produces the most credible source of information.
I like this strategy because it not only responds to the evolution of search engines, but also does it in a smart way. In my experience with content marketing, I've found some tactics to be more impactful than others. Topic clusters incorporate many of the most effective tactics into a single cohesive strategy.
Here's what I mean.
Creating An Intentional Content Strategy that Builds Topic Authority
Content marketing is typically ineffective without a proper strategy. That's why we structure content efforts into quarterly strategies for our clients that center around a general topic area. We've found that writing a series of specific blog posts that all relate to a more general topic helps our clients to build authority around that topic.
For example, a campaign for a clinical trial site might center around a general concept like "diabetes clinical trials." In that case, we might write individual blog posts covering subtopics like "hemoglobin A1C levels" or "blood glucose management."
The topic cluster model takes that campaign concept one step further. With topic clusters, you would still write the same blog posts you usually would. But, you'd also create a pillar page on "diabetes clinical trials." You'd then link all related blog posts to that pillar page.
This practice is an excellent method for building topic authority on your website because of its architecture. Organizing your content in this way allows Google to crawl through your content quicker and understand the semantic relationships between topics. As an added bonus, it also helps your team stay organized and focused.
Showing Expertise with Long-Form Content
For a while, marketers focused their content on optimizing for exact-match keywords. The result has been an influx of unhelpful articles online in an attempt to rank for a specific search query. Search engine algorithm updates have forced marketers to evolve to create comprehensive content that genuinely satisfies a searcher's query.
Now, savvy marketers are focusing on content quality and helpfulness of posts. That often means that content is a bit lengthier. HubSpot has deemed the most effective length of a blog post to be 2,100 words and should take about 7 minutes to read. That is roughly 3 times longer than the old rule of thumb of 600-800 words. However, this doesn't mean that you should write for the sake of reaching a word count. Instead, we should have the interests of people in mind and adapt to create content that genuinely helps those we want to reach.
Topic clusters prioritize long-form content with a weighty pillar page. On a pillar page, you should cover the overarching topic in great detail. The more helpful and rich the content, the better.
Broadening Search Visibility with Long-Tail Topics
Addressing more niche topics topics that are less competitive can be a great opportunity. Optimized blog posts about the right long-tail topics can yield impressive website traffic.
Long-tail topics are a key component of the topic cluster method. Content pages should focus on more narrow topics. This improves site visibility for specific terms while also giving visitors more relevant information.
Building Your Internal Link Strategy
An internal link strategy plays a big part in how search engines make sense of the content on your site. As mentioned before, by linking one page to another, you're telling Google - this page relates to this other page. A solid internal linking strategy helps to bring order to your website and also spreads ranking power throughout the site. This means that if one blog topic does well, it can potentially reward linked topics with a higher search placement in search engines.
Content pillars have an internal linking strategy built in. All content posts link back to the pillar page using the same hyperlinked keyword. The effect here is twofold:
Search engines see that the content on the site has a semantic relationship.
Search engines also see that the site contains a wealth of knowledge around the given topic.
This helps position your website as a true wealth of information.



A side benefit is that the topic cluster link strategy keeps your blog posts front and center. Because they're linked from the pillar page, they won't get lost in the blog section of your site. This amplifies the return on your blog efforts by giving the content increased exposure.
The Verdict on Topic Clusters
For the reasons stated above, I really like the topic cluster method. It helps with content strategy organization, impacts your position in search engine results pages, uses marketing best practices, and (most importantly) organizes a wealth of information for your website visitors. I don't see this as a passing fad but more so an evolution of how smart marketers are responding to search engine updates.
But, as with any marketing tactic, your results with topic clusters will only be as good as your strategy. Success with topic clusters requires proper user research, organization, and commitment.
Do you need help developing a content strategy that delivers results? Let's work together.
Share & Prove You Found It First
The Digital Slate
Looking for timely digital marketing and sales insights to grow your business? Subscribe to our monthly digital newsletter for marketing professionals.
Subscribe