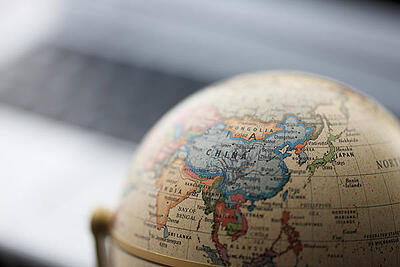 Is your company thinking about doing business outside the United States? Making your website relevant to potential customers in foreign markets will be an important step in marketing your product or service internationally.
When you think about international websites, the first thing that comes to mind is translation.
So I turned to Blake Dozier and Ignacio Garcia from Ingenuiti, a Virginia Beach, Virginia based company that specializes in eLearning translation and localization for international companies. Ingenuiti is a fellow program partner in Virginia's VALET program for companies that want to export their products or services.
Importance of Website Localization to International Business Development
Now, you may think that your website should be your last priority when thinking about international business development. Dozier, though, offers a different opinion. "Your company website is critical to your international business development success — even more important than your print collateral."
Because your website is available 24/7, more eyes will be on your website that could possibly earn you business or sales meetings. This means that you need to make your website relevant to people on those countries. Here are 9 website localization best practices that you need to keep in mind.
1. Update your English website first.
"Make sure your English website meets your target audience's goal first," says Dozier. "If your website doesn't first meet the informational needs of your target customers in America, it won't work in foreign markets, either. You will waste a lot of money if you decide to change the English version after translations have already started, because you'll have to pay for changes in multiple languages. Consider globalizing your English website, which is where you'd make it relevant for people around the world. You can do this by including multicultural images and avoiding images or phrases that might be irrelevant or offensive in other cultures."
2. Localize your website, don't just translate it.
It's important that you know your target geography before you translate. Localizing your website means that you're focusing on a specific region or culture, not just a language.
"Companies need to be careful because you have to make sure the translation applies to the country you're localizing for. For example, if you're trying to sell in Mexico and translate your website into Spanish, you have to make sure you're translating into Mexican Spanish. If you translate into European Spanish, you'll alienate the Mexican market you're trying to reach," advises Garcia.
3. Know the difference between website translation and TEP.
Companies need to be careful when getting translation. What you actually need is 'translation, editing and proofreading,' called 'TEP.' This kind of website translation isn't specific to website translation, but affects the quality of the translation you'll get. Dozier says, "You get what you pay for. Beware of ultra low translation rates that include translation only. It is important to make sure you are comparing apples to apples when it comes to quotes for translation. The scope of work should include translation, editing, and proofreading."
4. Get one language right.
"If you're going to take the time and money to translate your website for international audiences, it's better to do one language right than to have several languages and not get them right. If you translate your website, it has to be correct and accurate or you'll lose credibility with that audience," says Garcia. "Allocate your budget toward quality translations of less languages if necessary rather than going with the lowest cost provider to fit more languages in the budget. It's not worth making all of the language versions look bad just so you have more languages."
Occasionally we see companies use Google Translate to translate their websites, but this can actually be detrimental to their international business development efforts. "Websites that use Google Translate take the risk that the translation will sound unnatural, or even worse, be completely unreadable. If you're serious about doing business internationally, you should have your website translated by a native speaker of that language," adds Dozier.
5. Translate your navigation menus.
Garcia advises, "You need to be careful that you not only translate the content like a blog post or a new page, but also your navigation menus. It's difficult for a person to navigate a website when the content is translated but the menus are in English."
6. Choose the right photos.
Dozier advises companies to think about imagery on web pages they translate as well, saying that making your website culturally relevant is important, too. "Many cultures don't have dogs as pets, so the picture on your website of a family with a dog should be replaced. If you use stock photos of people on your website, they should look like people in the countries that you're hoping to develop business in."
"Also, not all countries are as progressive as the United States when it comes to gender and racial issues, so any photography or videos you use on your website should be sensitive to that."
7. Create a new, separate website for a target country for the best customer experience.
"If you are going to go to the trouble to customize images and content on your localized website, you may as well grab a different URL in your target country (like a .de address for Germany) and build a new website just for that country instead of just translating your existing website. Translating and localizing your existing website can take nearly as much effort as creating a new, dedicated website, and this can help your search engine optimization, too," adds Garcia.
In summary, preparing your website for international business development efforts requires a lot more thought than simply translating the words on the website. Need help creating your international web presence? Contact an advisor for an analysis and to go over your options.
Share & Prove You Found It First
The Digital Slate
Looking for timely digital marketing and sales insights to grow your business? Subscribe to our monthly digital newsletter for marketing professionals.
Subscribe