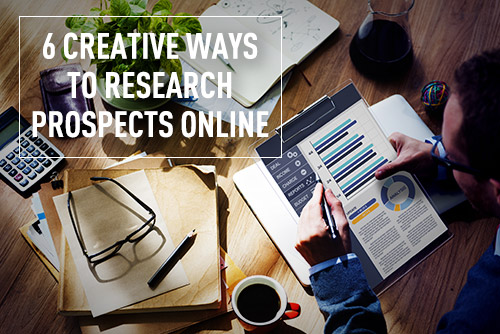 Before we turned to Google to help us research and land clients, we had to use the phone book, our personal network, and the cold click of a rotary telephone.
Ok, kidding about the phone book and the rotary phone.
While you can still use your phone to identify good business opportunities, there's a much more useful tool you can use that costs less and works harder: the Internet. Researching prospects online is a great way to identify new opportunities, make contact with hard-to-reach people, and make an impression. Here's a quick guide to making the most of your time online and reaching the people that matter for your business:
1. Guess your prospect's email address.
Would it surprise you to learn that you don't have to know someone's email to get in touch with them? Using a bit of deduction, you can figure out the combinations that a company uses for email addresses and creatively ascertain the email address of the person you want to reach. Often, trying a combination of the prospect's first and last name and initials will allow you to get an email through to them. For example, if you're trying to email someone named Andy Jones, you might try combinations such as AJones@Company.com, JonesA@Company.com, or AndyJones@Company.com.
2. Use the company website to identify key contacts.
When researching prospects online, start by reading through their company website for pertinent information. Pay special attention to the company's "About Us" section to identify key contacts that you'll want to get in touch with. Sometimes a company will list everyone who works there; sometimes they'll include only administrative or management emails. Keep an eye out for names and addresses that can help you network your way to the person you need to reach.
3. Use social marketing to deepen your connections.
Social media works for your business; it can also work for researching prospects online. When you identify key contacts from the prospect's website, go ahead and follow them on social media. Like, retweet, and respond to the contact's updates to develop a rapport. When appropriate, send interesting links or ideas to the contact in order to start a conversation.
4. Set up a Google Alert to find reasons to contact prospects.
When you've identified a few contacts, set up a Google Alert for the contact's names, email addresses, and company keywords to make sure you are notified when a new product, company news item or topic of interest is released. This will allow you to keep track of what's going on with your contact without having to actively devote time to researching prospects online.
5. Use IFTTT to get press release updates.
Similar to a Google Alert, you can also set up an IFTTT recipe for Business Wire and other press release websites using particular keywords or key contact names. The website will then send you an alert if any of your keywords appear in the headlines or body content of any alerts you set up, and it is completely customizable.
6. Reverse engineer LinkedIn.
Get started on LinkedIn using our basic tips for B2B lead generation. Then get more creative by identifying key contacts on the platform and reverse engineering the information to figure out direct reports, peers and titles, as well as commonalities. You can then use this information to indirectly grow your network and reach out to second and third degree connections with more authority.
Researching prospects online can be a full time job if you let it be. Instead, put some of these strategies into place to help you identify and track business opportunities without devoting all of your time to it.
Have you used any of these tactics to stay on top of your research using less of your valuable time?
Share & Prove You Found It First
The Digital Slate
Looking for timely digital marketing and sales insights to grow your business? Subscribe to our monthly digital newsletter for marketing professionals.
Subscribe