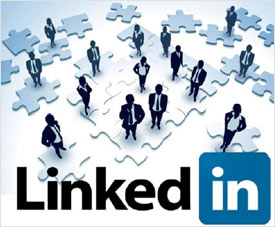 Many B2B marketers think that LinkedIn and other social media platforms are an ineffective tool for lead generation, opting instead to spend all their time and money at trade shows and advertising in trade publications. But LinkedIn, especially for B2B companies, can be a very effective tool to get new people to your website and drive awareness of your company.
Using LinkedIn as a marketing tool is a way to help your company attract new people to your website where you can pique their interest with great content and generate the sales lead. Using LinkedIn as an effective B2B lead generation tool is not as difficult as you might think. Here's what you need to know.
According to a survey conducted by ROI Research, Inc., in which 2,997 social media users were polled:
59% of them said that it is more important to have a LinkedIn account than an account on any other social media.
50% of those polled said that they visit LinkedIn at least weekly, while 20% said they visit the site at least daily.
In 2012, LinkedIn was the 23rd most visited website on the Internet, ahead of Craigslist, The Weather Channel website and Walmart's website.
LinkedIn is the largest professional social network online today, with over 135 million users. Your customers are there, too.
So, how can you tap this inbound marketing opportunity? Here are a few ideas:
Use it - Sounds simple, but you have to use your LinkedIn account for it to be effective. Log in often. Connect to your colleagues and your customers. Connect to your qualified prospects. Post updates.
Upgrade - For a small fee, you get upgraded features like InMail that allows you to send messages directly to anyone with a LinkedIn account, whether or not they are in your network.
Complete your profile - Did you know that LinkedIn says that you're 40% more likely to have networking success when you have a complete profile? Being thorough with your profile will position you for networking success because you'll have a better chance of showing up in a search.
Make your profile visible to everyone - There's no need to have a LinkedIn profile if no one can see it!

Research prospects - We love using LinkedIn for prospect research. We can search for people currently at a company, people that were formerly at a company, people with certain job titles and much more. You can also use LinkedIn to find out how if a company would be a good fit based on a number of factors. Sales people can use LinkedIn to find a decision-maker in the company. To do this, use the Advanced Search option to really hone your search.

There's also a very useful feature that allows you to save your searches and have those results emailed to you.

See who's viewing your profile - The more you post professional updates to LinkedIn, like blog post links to your blogs or others' websites, the more your profile will be viewed. You can see who viewed your profile directly from your LinkedIn home screen, which might clue you in to some sales opportunities.
Join groups where your customers hang out - Concentrate on a small number of groups that are applicable to your target customer's industry and make effective use of them. Engage by adding thoughtful comments to different people's posts. Also, utilize your network and their groups. Sometimes, people are willing to recommend your company publicly when asked in a group, especially if you're active on LinkedIn. We've personally picked up at least 4 great leads this way.
Include content offers in your profile summary - Did you give a webinar that you recorded and would like to replay? Do you have a whitepaper to offer? Include a link to the landing page in your LinkedIn profile summary for all to see.
Market yourself - Social networks are about people, so market yourself as an individual, a representative of your company. Become a trusted leader in your industry by posting status updates, sharing useful content and participating in groups.
Start a company page - If you don't have one already, start a company page and encourage your employees to link their profiles to the company page.
Link your blog's RSS feed - Link your blog to your profile or your company page and LinkedIn will automatically show your latest blog posts.
These are just a few tips to make effective use of LinkedIn for B2B lead generation. What are you waiting for?
Share & Prove You Found It First
The Digital Slate
Looking for timely digital marketing and sales insights to grow your business? Subscribe to our monthly digital newsletter for marketing professionals.
Subscribe