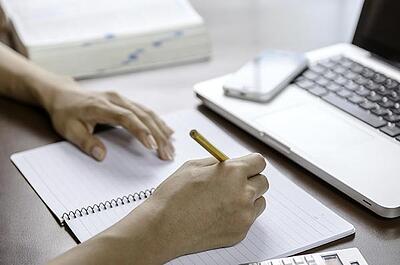 A recent study came across my news feed from KoMarketing, Huff Industrial Marketing and BuyerZone called 2015 B2B Web Usability Report: What B2B Buyers Want from Vendor Websites.
There are some interesting findings in this report that you need to know about regarding the buying process for small business purchasers. Here are some of the things that I found most interesting when it comes to B2B marketing and sales:
52% report that blogs aid the vendor discovery process at least some of the time.
If you read the table of contents of the report, you'd see the headline "Blog and Social Media Impact on the Buyer Journey Not as Significant a Factor." But if you look at the data, about half of B2B buyers find blogs helpful at least some of the time.
Our experience tells me that this statistic is a little misleading, though (but that's a topic for another blog). Many people don't know they are reading a blog when they find your website, so of course they wouldn't report that it's helpful in the vendor discovery process.
What's more is that most people don't actively seek out a blog -- they discover them when they search Google. Is a blog important to getting found? To at least half of people, yes.
That means that search engine optimization (SEO) has to be a priority.
B2B company websites lack thorough contact information.
If you should have one thing on your website, it's thorough contact information. It's the most important content asset to your buyers according to this study. Over half of the people in this study cite the lack of thorough contact information as a frustration.
We've found that you should at least have a "contact us" link on your website with location information and key contacts' phone numbers and email addresses. Does your website make it easy for potential customers to contact the right person at your company? If not, it may be time to think about the experience you'll create on your website moving forward.
Your customers are looking for pricing online. Give it to them.
When asked what information sales and product-related information decision-makers need when determining a vendor, more people cited pricing as a "must-have" than any other factor.
Putting pricing on the web doesn't necessarily disqualify your company, even if your prices are higher than competitors. Would you consider at least testing pricing on your website to see if it increases your contacts to support your ideal audience's purchasing decision?
Company-focused websites cause customers to leave your website.
When asked, "Which website elements annoy you or cause you to leave a website?" over half of people said that a "lack of message," or inability to understand what the company does, would cause them to leave the website.
We evaluate websites all the time that are "company focused," not customer focused. When someone reads your website, will they understand what you do? Or is your website written using company or industry jargon, or worse yet flowery text that your customers won't understand?
Buyers will fill out forms to get information.
The survey found that people are willing to fill out short forms to obtain and download content, including trial offers, demos, research, webinars, whitepapers, case studies and more.
Survey respondents did state that collecting too much information in a form is a deterrent, so companies should be careful what they collect. Try removing "phone number" from your forms to see if you get a better response. Note: In our own marketing, we have tested this and found that phone number is not a deterrent in B2B buying.
Are you offering downloadable content on your website in order to get more leads?
Buyers research your products and competing products on the web.
Over a third of your buyers will visit your website more than 3 times when gathering information. What's more is that the reason they'd leave your website is to research competing products or solutions (87%).
Is there an opportunity for your company to provide comparisons with competing products or solutions on your website? Will pros and cons deter the sale or encourage it?
You may think that providing comparisons with competing products or services on your website is unwise. But should you consider it?
At the very least, you should provide information about your product or service that allows people to easily compare.
The bottom line is that you have to understand your B2B audience's purchase process and provide an experience that meets them where they are.
Did you read something here that piqued your interest? Do you have any to do items for your website?
Share & Prove You Found It First
The Digital Slate
Looking for timely digital marketing and sales insights to grow your business? Subscribe to our monthly digital newsletter for marketing professionals.
Subscribe