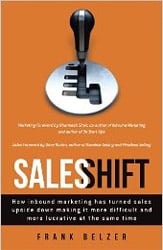 After a recommendation from a trusted advisor and facing a rainy weekend, I recently bought Frank Belzer's book called Sales Shift: How inbound marketing has turned sales upside down making it more difficult and more lucrative at the same time.
Having worked with inbound marketing clients (both marketing teams and sales teams) in our business, I was intrigued because the book is specifically about selling to leads from inbound marketing. Note: Someone out there is thinking about selling to inbound leads, not just generating leads!
The main assumption of the book—which I believe wholeheartedly—is that buyer behavior has changed over the last several years. Your customers avoid or completely overlook advertising messages that are pushed at them from every direction. Your customers have taken control of their purchases by searching the web, arming themselves with information.
Working leads you generate from your website often takes a different approach than techniques used 20 years ago, the book argues. "What if you merely ask if they would like to have a quick conversation without an agenda?" writes Mr. Belzer.
The "Sales 2.0" approach Mr. Belzer writes about in the book is a more consultative approach. Following up on leads from your website involves changing the prospect/sales relationship by being more consultative—seeking to understand prospects and their pain points before the salesperson tries to sell anything.
Because sales leads that come from websites are generated because prospects are looking for specific information, the sales process also has to recognize and build on that context. Your prospects are seeking specific information, and the book argues that sales people can't treat every lead the same way. Conversations have to be tailored to each prospect and related to the information they are seeking.
Some other of the points that I took note of include:
"Inbound prospects need to feel as if they are in control of their destiny."
In an inbound marketing paradigm, leads that don't buy should go into a lead nurturing program where you continue to communicate with them.
"Consultative selling skills" include remembering the context of the conversation, taking a big picture approach, having sincerity and genuine interest about a prospect situation and focusing on outcomes and results.
Successful salespeople in the inbound marketing paradigm will become trusted advisors through honesty, integrity, and true knowledge.
Sales and marketing should work side-by-side. Marketing should listen to what salespeople say about their interactions with prospects, and sales should use social media and blogs to do their job more effectively.
I also particularly enjoyed how Mr. Belzer related an inbound sales call to a great interview by James Lipton, David Frost or Larry King. These skilled communicators know how to ask great questions that get the best responses from their guests, and salespeople that work inbound leads could learn from them.
This book is particularly helpful to companies that might be generating a lot of inbound leads from their websites, but not closing any deals.
It's not enough just to generate lots of inbound marketing leads. What are you doing to convert your website leads to customers?
Share & Prove You Found It First
The Digital Slate
Looking for timely digital marketing and sales insights to grow your business? Subscribe to our monthly digital newsletter for marketing professionals.
Subscribe