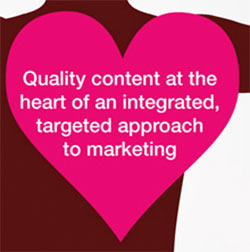 ContentPlus recently shared a neat, data-packed infographic about content marketing and why it is essential to the growth of your business.
We've distilled some of the key facts and figures presented in the infographic and added some additional resources and takeaways.
What makes up content marketing?

So, what is content marketing?
Content marketing is an integrated, targeted approach to marketing. It is a way of creating and sharing content that:
Tells customers about your company,
Describes your products or services,
Shows how you can help solve their problems or make their lives easier, and
Inspires them to take action.
But take note: you can't rely on just any kind of content. You need good, strong content to keep your online marketing alive.
Good Content Keeps You Going
Good content is useful, relevant, engaging and original.
It comes in many shapes and sizes:
Blogs
Podcasts
Infographics
Whitepapers
E-books
Guides
Case Studies
Webinars and video are other examples of content you can use to add variety to your online marketing.
Don't Forget Your Vitamins or Exercise
Healthy eating alone isn't enough to keep your body in tiptop shape; you've got to do other things, like exercise or take your vitamins.
The same kind of thinking applies to your online marketing. Content alone can't, and won't, bring success. Other factors, like identity and relationships, come into play, says Google Fellow Amit Singhal.
Rand Fishkin from SEOmoz makes a similar point; more and more, successful online marketing depends on building a successful brand first and making sure things like your people, your products and your customer service are all on point. Content won't survive long if it has nothing to back it up.
How Does Content Marketing Keep Your Business Healthy?
When you've got all the right parts, and they all work together, content marketing can be a powerful force of life. It keeps your business pulsing and growing.
Brain Power
Good content's effects are twofold.
On the one hand, good content nourishes your business brain. When you stay on top of current news and trends in your industry by way of blogs, articles, podcasts and the like, you keep your mind sharp, knowledge up to date, and skills current.
And, when you create informative, high quality white papers, case studies and other resources, you establish yourself as a subject-matter expert. By sharing good content, you become the thought-leader.
All Eyes on You
Content marketing can increase your company's visibility. For example, business blogging can lead to results such as:
55% more website visitors
97% more inbound links (links to your site from other sites)
4x increase in leads
More Muscle To Flex
Publishing and sharing unique, fresh, relevant content can give you the edge in the search arena. Consider that blogs can give you 434% more indexed pages and 97% more indexed links. The more content that Google, Bing and other search engines index, the better! You'll have more pages and links that can show up in search results...which means customers will be more likely to find you and not the competition.
Relationships Start Off On the Right Foot
Only 3% of people are ready to buy right now. That means the majority of your website visitors are looking for information first. You can't push a sale too early on. You've got to let your customers get to know you first.
Content marketing can be the key to winning trust and developing a bond with your customers. 60% of customers feel more positive about a company after reading custom content on its website. And 70% of people prefer to learn about a business through an article, not an ad.
So, don't alienate prospects from the get-go. Don't go with over-the-top, in-your-face advertising (unless your business is known for being over-the-top and in-your-face!). Invest in content that answers questions and establishes trust. By doing so, you'll be looking at the start of a beautiful relationship.
---
Was there a statistic in the infographic that shocked you? What takeaway is most important to you? Do you have a place for content marketing in your business' marketing strategy yet, or do you still need more convincing? Share your thoughts and questions in the comments below, or drop us a line!
Share & Prove You Found It First
The Digital Slate
Looking for timely digital marketing and sales insights to grow your business? Subscribe to our monthly digital newsletter for marketing professionals.
Subscribe