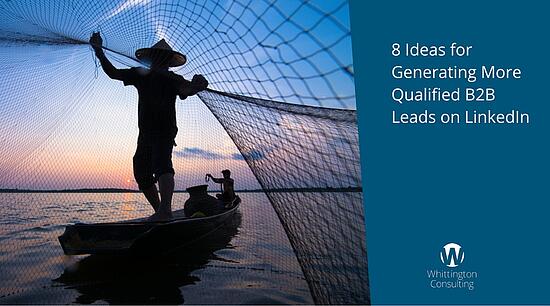 According to a study conducted by HubSpot, LinkedIn produces a visitor-to-lead conversion rate of 2.74 percent -- that's 277 percent better than Twitter or Facebook. On top of that, more than 80 percent of B2B leads gathered via all social media efforts combined come from LinkedIn.
LinkedIn currently has more than 396 million users, but how can your business take advantage of the platform to earn more leads?
Here are 8 ideas you can try to get more traction and generate more leads using LinkedIn.
1. Share Updates Regularly
A good way to appear on your connections' news feed on a regular basis and stay top-of mind is to update regularly. Not only are you putting out good information, sharing industry news and tips, but people are able to see that you frequently post. This allows those who view your feed to see your engagement on a regular basis.
Start today by sharing an industry tip, a work-related thought or a link to a recent article you read.
---
Are the LinkedIn profiles of your company employees helping you generate leads?
Check out our article on how to optimize your LinkedIn profile so it's prospect-ready.
---
2. Publish a Post
It might seem obvious but just the act of posting to social media helps you to establish credibility and gain new connections, especially when you publish to LinkedIn Pulse. Rather than just sharing news or an interesting article, adding your own thoughts or publishing an original article on LinkedIn will get you noticed.
Think of a post on LinkedIn like a blog post, only written on LinkedIn rather than your company website. If you've thought of writing a blog to share tips, you might consider posting to LinkedIn. You can also re-publish what you write for your website on LinkedIn Pulse.
3. Create a Slideshare
Like publishing a post, you're creating content that potential customers can consume. In fact, more than 70 million people are actively looking for content every month on SlideShare, a way to both share your slideshows and also to share information contained within them. It's a resource ready-made for generating leads and connecting potential customers with content they can use every day.
Here's a great deck that shows you how to use SlideShare to generate more leads:
4. Participate in LinkedIn Groups
Roughly 2.1 million groups currently exist on LinkedIn and if you're looking for quality leads, joining relevant groups is a great place to get start. When selecting LinkedIn groups, opt for those with the highest activity level.
Once you've chosen a group, do your best to be helpful by commenting on others' posts where you have expertise. Answering questions and engaging in discussions establishes authority, builds trust, and brings leads right to you.
Related resources on LinkedIn Groups:
5. Reach Out With InMail
One of LinkedIn's most popular marketing features is InMail, which is useful for lead generation because it allows you to send messages to people outside of your direct connections.
InMail is also an effective tool for getting past gatekeepers and making personal contact with prospects. Plus, according to LinkedIn, marketers who use InMail are 30 times more likely to obtain a response than those who choose cold calling.
Tip: Before you write an InMail message to a contact, research them and find commonalities you can mention in your message.
6. Utilize Advanced Search
For B2Bs using LinkedIn to generate leads, advanced search is an effective tool. Advanced search lets you enter details such as companies, names, or alma maters to connect with leads through more-focused results.
You can quickly create a contact list of people that meet a set of criteria that you can later reach out to via email or LinkedIn InMail.
7. Make Use of Sponsored Updates
In 2013, LinkedIn conducted a case study on Adobe Systems Inc. As part of a company growth plan, Adobe used LinkedIn's Sponsored Updates and quickly found that decision makers who had viewed the updates were "79 percent more likely to agree that 'Adobe can help me optimize my media spend.'"
The downside of sponsored updates is that they cost you every time someone clicks. The upside is reaching a new audience. Because LinkedIn users who aren't direct connections see Sponsored Updates, they're an effective way to maximize your reach and produce new leads.
8. Optimize Your Company Description
One of the most underrated tools on LinkedIn is the description on your company page. You should use this space to address your target audience directly and help to make sure the focus is on the first two sentences, which is what LinkedIn displays before the "see more" button. Try highlighting your value proposition or even feature a call to action that encourages following or to visit a section of your profile.
When it comes to B2B lead generation, LinkedIn is an important resource. Hopefully you'll find these eight ideas helpful and try one or more. Have you tried any of these?
Share & Prove You Found It First
The Digital Slate
Looking for timely digital marketing and sales insights to grow your business? Subscribe to our monthly digital newsletter for marketing professionals.
Subscribe