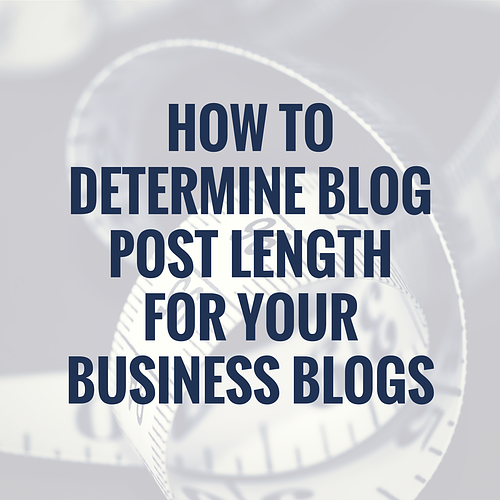 We know a blog post title should be around 55 characters and that the first three words and the last three words are the most important. But when companies start writing blog posts, there's a lot of confusion about whether the best blog post length should be short or long.
Thanks in part to publications like Entrepreneur and Forbes, most people accept a typical blog post to run between 500 and 800 characters. But there are plenty of successful marketers who run that range low and high (or, as HubSpot says, "As long as it needs to be!")
For example, prolific marketing guru Seth Godin regularly releases popular blog posts that barely scrape to 100 words. And yet popular posts on Copyblogger often run higher than 1000 words. Both websites contribute to the best practices of B2B marketing around the world, and yet both websites have a different approach.
You'll find different blog post lengths here on this blog, too. Some you can read in 3-5 minutes, while others may take longer. Our longest article on this blog is over 2,100 characters!
It may be frustrating that the answer is hard to pin down. But that shouldn't stop you from pursuing the best length of writing for your industry and your customer. You simply need to use the following three questions to develop your own approach according to what works best for your customer.
1. What is your customer looking for?
Is your customer looking to vet you for your clarity of ideas and creativity? Then shorter posts might do the trick. Are they looking for an in-depth guide to a particular problem they have? Then a long-form guide might be just what they need to find your site and become convinced of your expertise. But if you don't consider your customer's point of view, you might deliver a long post to someone with a low interest level, or a short post to someone who craves more information. The answer to both of these questions lies in your customer personas.
When you understand what your customer is looking for, you can devote the proper time and resources to building content that suits their needs. That includes topics, ideas, and blog post length. For example, these ten B2B businesses (including KISSmetrics, Optimizely, and Adknowledge) successfully use their blogs to drive lead generation and establish brand authority. Their topics -- from accounting to CRO analytics -- are "boring," yet their communities are thrilled to read and share each post. By catering the content towards their audience's niche needs, they have built an engaging community.
2. How does your customer prioritize his time?
A busy CEO isn't likely to have the time to sit down to a 1,000-word blog post every day. If they follow any blogs on their RSS feed reader, they may focus on industry-specific briefs that get the point across quickly. On the other hand, from time to time they may seek out long-form dives into important topics that trouble their business. It's up to you to know when to spend the time on a long blog post and when you can have a bigger impact with a short post.
The answer comes back to your content marketing blueprint. What are you offering with your blog? What do you have planned for your longer-form lead generation content offers? Planning out what value you offer at which blog post length will help you decide whether your blog posts should be long or short. Otherwise, the work and expense you put into developing those articles might not have the desired results.
3. What is the purpose of your blog?
Finally, you need to identify the stylistic purpose of your blog. What ties your content marketing blueprint and your customer persona together? How will you address your customers to reach your goals? We're all here to generate leads, but exactly what approach will resonate best with your customers? The answer to this question will help you narrow down your blog post length choices.
Do you need to educate? Then you need to use as many words as necessary (and images and videos) to bring the understanding home for your customer. Do you need to spark dialogue? Then sharing your opinion and a few background articles might be enough to light a fire under your readers. The best length for each blog post -- as outlined by Neil Patel, the master of SEO at QuickSprout, who skews toward longer posts -- will depend on the substance of what you're trying to express, your goals, and how your customer wants you to engage with them.
When in doubt, guide your blog post length with the idea you're expressing. Use HubSpot's guide to writing a blog post and write what needs to be written to cover the topic. When you finish, you can evaluate your blog post based on these three questions to edit down or up as needed.
How do you decide your blog post length? Do you aim for long, short, or a mix of both?
Share & Prove You Found It First
The Digital Slate
Looking for timely digital marketing and sales insights to grow your business? Subscribe to our monthly digital newsletter for marketing professionals.
Subscribe