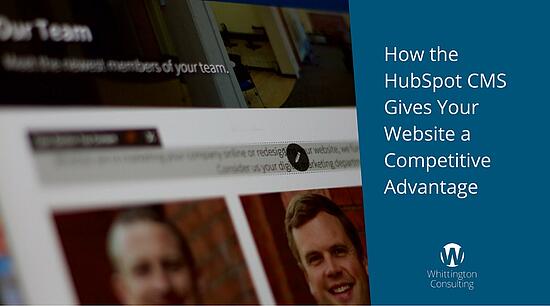 If you're reading this article, you might be evaluating content management systems for your company website, or maybe you're just frustrated with your current content management system. You might also be evaluating the HubSpot CMS and its capabilities.
What we've found, though, is that HubSpot's content management system can actually give your company a competitive advantage. How so? Here's what we've found from working with the system.
It's Incredibly Intuitive
Many content management platforms tout their ease of use and flexibility, but we've found that HubSpot COS' ease of use actually surprises people.
The what-you-see-is-what-you-get style editor lets you edit web pages precisely how you see them on the web. No more filling in forms or text fields and wondering how things will look when you publish them.
This is going to end up saving you time. And if you need to send a draft version of a web page to someone in the company for approval, you can do this without them needing to log in.
When your website is easy to update, you'll find yourself updating it more often, which benefits your customers.
---
Want to see it in action?
Let's look at a real website to see how easy editing can be.
---
Two-Way Connectivity to Sales Tools
Here's the thing about most corporate websites today. They are brochures. They aren't connected to tools that help your sales team sell more. They email you when a customer fills out a contact form, and if that email hits your junk folder, you'll miss a sales opportunity.
If your company really has it together, your website is connected to Salesforce or another CRM. This means that leads from your website go directly into the CRM. The problem here is that the CRM can't update the website.
Because HubSpot COS is part of HubSpot's marketing suite of tools, web leads can flow into your CRM, and as your sales team work those leads and update information about the prospect, that information flows back into HubSpot where it can be used to personalize your website.
The practical application for this? Let's say someone downloads an e-book from your website on a product page. When they revisit, your website knows they already downloaded the e-book. Your website knows to put something else, like a quote request form, in place of the e-book, helping to advance the sale.
Create The Blogs And Content You Want - How You Want It
You've got a company blog, and that's great, but as companies become publishers to meet the demands of today's buyer, one blog may not be adequate. Let's say you have multiple product lines. Or your law firm has different practice areas. You may want different blogs that are targeted to those customers.
HubSpot lets you create multiple blogs easily without a developer's assistance (scandalous, right?). Multiple blogs will help you sort your content by topic, vertical, audience, or any other way that works for your business.
Blazing Fast Speed For a Better Customer Experience
Waiting for web pages to load is frustrating for anyone. If people wait too long, they'll leave your website. Most websites are too slow. Wordpress websites can be hit or miss.
The superior speed of the HubSpot's content delivery network (CDN) means your users get the content they want quickly (and this is beneficial for search engine optimization since site speed is an increasingly important ranking factor).
Updates Don't Risk Downtime
One of the biggest complaints I hear about Wordpress and other popular content management systems is that updates are frequent and risky. Sure, Wordpress is easy to update (and can even update itself). But if you've cobbled together a bunch of plugins, you know how risky that auto-upgrade can be. Just last week a client updated Wordpress and broke the ability to edit their website. It was a couple days before the capability was restored.
HubSpot's CMS doesn't need updating, because the HubSpot engineers do it for you. The updates happen behind the scene, making updates a thing of the past. You don't want to risk your website being down because it can hurt search engine rankings and prevent customers from interacting.
It Doesn't Tie Up Development Personnel
If you're lucky enough to have a developer in-house, you know they are busy people. They are trained to "get stuff done" quickly. But you're the marketer — the one who might want to lay a web page out, then tweak it as needed. You shouldn't need a developer to do that.
HubSpot makes for easy maintenance and drag and drop updates that don't necessarily require a developer or significant time unless you are making substantive design or functionality changes. Any member of your team can make edits on the fly.
In addition, HubSpot offers 24/7 technical support, which is something that other common CMS programs like Wordpress, Joomla, and Drupal lack.
When you save time updating your website, or when someone who's nontechnical is comfortable updating your website, your website will be more up to date than your competitor's.
Learn More About Content Management Systems
If you're researching a content management system for your next website, check out our two-blog series on how to choose a content management system. If HubSpot surfaces as a contender, let us know and we'll demo it for you with a real website so you can see how it works, and then read our blog on what you need to know before migrating to HubSpot.
Share & Prove You Found It First
Signup For Updates
Like what you are reading? Receive articles directly to your email! We treat your information responsibly.
Subscribe