Your company may have a WordPress site that you're mostly content with. Why make changes when you don't need to?
Some companies we talk to have WordPress websites and while they have HubSpot or are considering HubSpot, they aren't quite ready to put their website on the HubSpot CMS. Some companies require advanced functionality on their websites that HubSpot CMS can't handle.
For those that use WordPress to power the company website, we wanted to share a few ways that you can use WordPress and HubSpot together. Read on to discover six ways you can use HubSpot and WordPress together to grow your business.
Need expert HubSpot help?
Make the most out of your investment in HubSpot. Whether it's setting up HubSpot CRM for use with your company's sales process, marketing automation or a marketing roadmap, our experts can help.
1. Install the HubSpot Tracking Code for WordPress plugin.
Plugins are third-party tools you can use to add functionality to your WordPress website without doing any coding yourself. For example, the "HubSpot Tracking Code for WordPress" plugin allows you to easily add tracking to your Wordpress site without getting into HTML or CSS. You can also add HubSpot-recommended plugins to your site that help you manage your RSS feed, blog subscribers, author profiles, social share buttons, and more.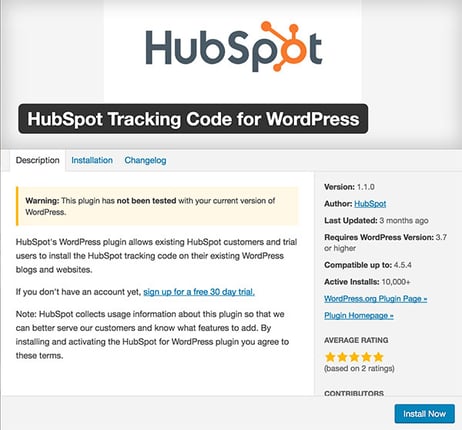 2. Use HubSpot to track the SEO and effectiveness of your WordPress pages.
Many marketers use HubSpot's Page Performance report to finally see which marketing efforts work and which don't. Because the Page Performance report tells you how well all of your web pages are optimized (even your web pages on WordPress), you can use the score and actionable advice to optimize core service pages and other WordPress pages, too. All you'll need to do in order to access this data is have your HubSpot tracking code embedded on your WordPress pages.
When you create calls to action for core website content, service pages, and your blog in HubSpot, integrate them into your WordPress website pages by using the provided embed code. Combining HubSpot and WordPress in this way allows you to use the Page Performance report in HubSpot to measure the effectiveness of the calls to action on your Wordpress pages.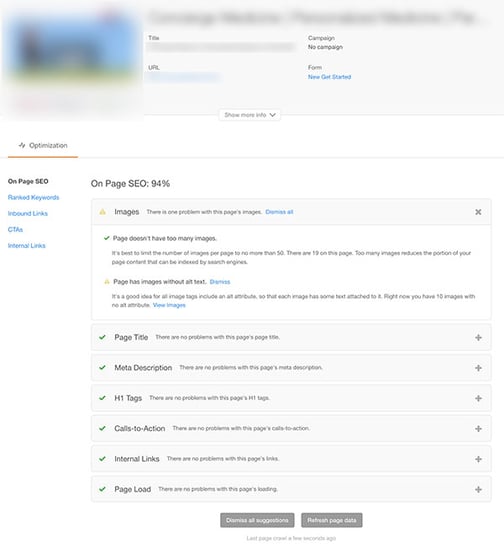 3. Embed HubSpot calls to action on your WordPress pages.
Having a website that generates contacts for your business requires getting them to take an action. Placing calls to actions on every page is critical.
Create your calls to action in HubSpot, then embed them on your WordPress web pages so you can measure the click rates of all your pages and send traffic to lead generating landing pages.

In our work with HubSpot and websites, we see a lot companies that have bought HubSpot but haven't fully integrated its capabilities into their websites. One thing that many companies overlook is replacing existing buttons and key links with HubSpot calls to action. This will let you measure which button or link is being clicked most frequently.
4. Embed your HubSpot email sign-up form on your WordPress site.
Your email sign-up form offers another crossover opportunity. HubSpot users often manage their email list with HubSpot, but this list doesn't automatically connect with your WordPress website, which is where your subscribers may decide to sign up for your list.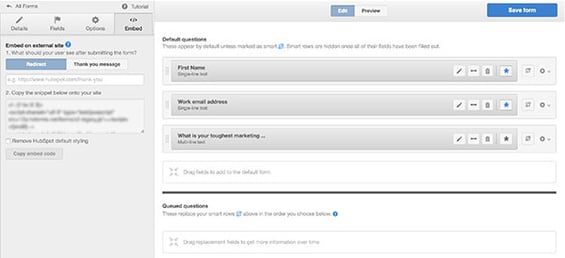 Connect your WordPress website and HubSpot list by embedding your HubSpot email sign-up form into your WordPress template. You might also want to test using your form inside a box that appears after a certain amount of time or a certain amount of scrolling. The free Boxzilla WordPress plugin works well for this.
5. Integrate a HubSpot contact form on your WordPress site.
First-time website users often use a third-party plugin for contact forms such as Gravity Forms or Contact Form 7. While these plugins work just fine as contact forms, HubSpot users can do better. Using an embedded HubSpot contact form will save you a valuable step by sending the customer's data directly into HubSpot so you can track it and start a contact profile.
To add your HubSpot contact form to your WordPress site, simply create your form in HubSpot and copy the embed code. Then open the page in WordPress you'd like the form on, click the "text" tab, and paste the code in place.
If you still want to use Gravity Forms or Contact Form 7, you can still connect them to HubSpot using add-ons, but we don't recommend this unless your contact form has complex functionality.
6. Use HubSpot to develop a warm lead list.
If your company has sales reps that need fresh leads on their prospecting list, you can use your WordPress - HubSpot integration to do it. HubSpot's CRM allows you to get a daily list of companies that visit your company's website, along with pages they visited and some basic company information.
Armed with this information, your sales reps can find contacts at those companies and reach out.
All you'll need to get this information is the HubSpot tracking code installed on your WordPress website.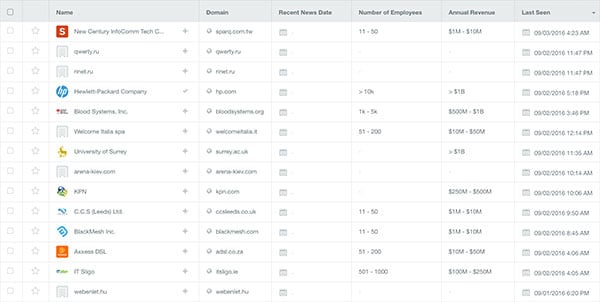 Both HubSpot and WordPress are powerful tools that can be used separately to achieve great results. But we've seen time and time again that when you combine a world-class website platform with the number one marketing platform in the world, you can truly maximize growth.
Share & Prove You Found It First
The Digital Slate
Looking for timely digital marketing and sales insights to grow your business? Subscribe to our monthly digital newsletter for marketing professionals.
Subscribe