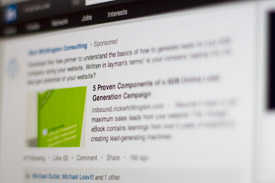 Who says B2B companies can't use social media to generate leads? If you're an intermediate LinkedIn user, I would encourage you to look into LinkedIn Sponsored Updates. Note: If you're a Linkedin beginner, you should probably become more familiar with it before trying Sponsored Updates, because I'm a firm believer in trying something only after you're familiar with it. You might want to read our 32-page eBook on enhancing your internet presence with social media before you act on the advice in this blog post.
So what's the big deal about LinkedIn Sponsored Updates?
You may already be aware of LinkedIn Ads, which is a different product than Sponsored Updates.
The Difference between LinkedIn Ads and Sponsored Updates
LinkedIn Sponsored Updates is new to "self-serve advertisers" (read: "do-it-yourself advertisers") since summer. Before summer 2013, you had to spend lots of money and have a dedicated LinkedIn ad rep to have access to Sponsored Updates. In essence, this new ad platform is now open to small businesses with smaller budgets.
Sponsored Updates appear in the LinkedIn user's timeline as opposed to the typical display ad that shows up at the top of the page or with a tiny image on the right side of the page. Sponsored Updates look less like ads and are in the visual focal point of your prospects as they read updates.
We all know that visuals and images catch people's eyes. Images that are allowed in Sponsored Updates are much larger than the small square images in LinkedIn Ads.
As an advertiser, you have more room for copy in a Sponsored Update than in a LinkedIn Ad.
If your prospect likes your Sponsored Update, they can share it with all of their connections, giving your update more exposure. Ads don't allow sharing.
Sponsored Updates can help your company page get more followers, helping you grow your awareness on the LinkedIn platform.
Sponsored Updates come from your LinkedIn Company page, not your personal profile.
You'll also want to note that unlike Twitter ads, you don't pay anything when someone likes or shares your update. You only pay when they click it.
Really Good Demographic Targeting
LinkedIn Sponsored Updates, like Ads, takes advantage of some pretty awesome demographic targeting. You can hone in your updates to reach the kinds of prospects you're looking for, reducing wasted spend.
Take a look at some of these demographic targeting parameters:
Location
Companies (name, category, or exclude companies like your competitors or current customers)
Job title
School attended
Skills
Group
Gender
Age (18-24, 25-34, 35-54, 55+)
As you can see, the targeting capabilities are very good. Tip: Keep in mind that if your budget is relatively small, you might want to make your target very narrow to avoid burning through your budget. My tests indicate that you can burn through your budget fairly quickly.
Who's Using LinkedIn Sponsored Updates?
If you're planning to test LinkedIn Sponsored Updates for your B2B lead generation efforts, you're in good company.
Big brands like Adobe, Lenovo, Allstate, Charles Schwab, General Electric, Mercedes-Benz, Nissan, Wall Street Journal, HubSpot and Xerox are using LinkedIn Sponsored Updates, but more and more smaller brands are using them as well.
How Much Does It Cost?
The thing that smaller brands will like about Sponsored Updates is that the minimum ad spend is just $10 per day.
Pro Tips for Generating B2B Leads Using LinkedIn Sponsored Updates
Before I close this article, I wanted to share some tips that you should consider if you want to add Sponsored Updates to your advertising toolbox.
Set your daily budget low and test multiple updates. You want to see which topics resonate with your target demographic.
Try different copywriting techniques in your update. Consider posing a question that provokes thought and entices the target to click and learn more.
Link your update to a landing page with lead form that clearly says a) what the target will get if they download the content, and b) who the content is suited for.
Have a plan in place to follow up with the leads you generate, or better yet, automate the follow-up process with email.
Make sure your company page profile is complete. People may find their way back to your company page, where there's an opportunity to create a connection or gain a new follower.

Have you tried LinkedIn Sponsored Updates? What results have you seen?
Share & Prove You Found It First
The Digital Slate
Looking for timely digital marketing and sales insights to grow your business? Subscribe to our monthly digital newsletter for marketing professionals.
Subscribe