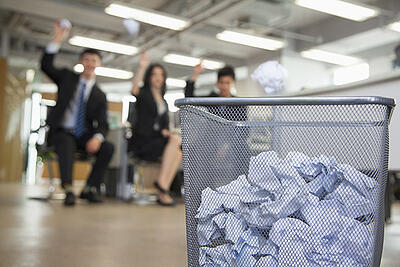 I talked to a CEO last week. She had just hired us to handle her company's online marketing and needed to firm up some details.
While we were talking, we were on the topic of monthly reports. Her former marketing firm had emailed a report every month showing her keyword rankings. She was wondering exactly what she was going to receive from us.
She asked if we were going to send SEO ranking reports monthly. I replied, "no." Turns out, that was the right answer for this CEO. She responded, "I never really saw that much value in them anyway."
Can you relate to this conversation?
I see too many search engine optimization companies and marketing firms trying to sell #1 rankings. Never mind that the keywords they mention seldom get searched, or that the words they try to sell you aren't the same words your ideal customers use, or that rankings are different for everyone.
Still, marketing firms sell rankings, and people fall for it. Let's take a look at why rankings really don't matter in modern SEO.
You know what words your ideal customers use better than an SEO company.
An SEO company can research keywords all day, but it doesn't mean that the words they uncover will be what your ideal customers search for. When an administrative assistant in need of a more secure company network searches the internet, she may not know to search the phrase "managed IT services."
Because your salespeople talk to prospects and customers every day, they likely know the phrases customers use, because they want to use those same phrases and scenarios as they explain your product or solution.
#1 rankings don't always lead to sales.
As a CEO or VP of sales, you don't need #1 rankings, you need sales. Even though a high ranking makes it more likely that more people arrive at your website, it doesn't mean they will become leads.
What happens when someone visits your website?
What's your conversion rate?
What percentage of website visitors make contact?
These matter far more than your keyword ranking.
You see, if you want more sales opportunities from your website, there's a lot more to the equation than getting people to visit your website. You also have to find ways to convince those visitors that your product or solution might solve their problem, or at least that you understand their need.
I remember an artist who ranked #1 for "free cartoons" back in 2007, but hired us to figure out why he wasn't getting any sales on his website. The phrase "free cartoons" is searched 5,400 times per month in the United States according to Google's Keyword Planner, but the commercial intent of that phrase is virtually non-existent. Needless to say, optimizing his website for "free cartoons" probably wasn't his best decision if he wanted sales.
Search engine rankings vary from person to person.
Most executives don't know that search engine rankings vary from person to person. When I search Google for something, I may get completely different results than you do. Google looks at many factors when returning results, including:
Your web history (Google may show a result from a website you visited in the past)
Your geographical location (if you have a smartphone, especially an Android smartphone, Google knows where you've been because of location services)
and a lot more
Knowing that your target customer may see different results is important.
How should you measure SEO?
The problem with the question, "how should I measure SEO?" is that SEO is simply a small portion of your online presence. No measurement is going to tell the whole story.
Instead, look at metrics that tell the story of your online marketing effectiveness, like:
Website visits (trends, measure month-to-month)
Website visits from search engines (also called "organic traffic")
Number of times people read your blog posts each month
Number of web leads derived from search engines
Conversion rate from "organic" (search engine) traffic
Don't be duped by SEO firms selling #1 rankings. Know that rankings don't necessarily lead to sales, and that your website rankings are likely to fluctuate from person to person.
Share & Prove You Found It First
The Digital Slate
Looking for timely digital marketing and sales insights to grow your business? Subscribe to our monthly digital newsletter for marketing professionals.
Subscribe