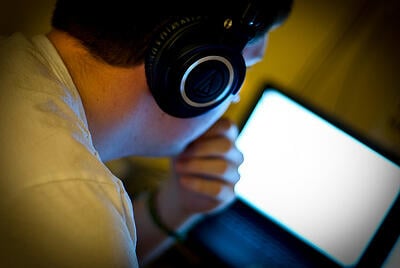 When you engage a potential customer with video, you create a visual relationship with them. They're able to get a sense for who you are, how you speak, and how you provide value to your customers. And when done correctly, it can do a better job of communicating value than a blog post or a standard, run-of-the-mill website.
We've already busted a few myths about video for B2B lead generation, but few companies understand why video could be such a good fit with their other content marketing efforts. Here are three reasons it's time to consider it.
1. Video is a targeted fit for B2B lead generation in every industry.
You may experience video as a consumer technology in your personal life, but the truth is that video content is everywhere now, and that includes serious B2B industries like healthcare, manufacturing, and industrial.
The proof is in the numbers. In an average month, more than 1 billion unique users visit YouTube. And these numbers extend to important company decision makers: according to Forbes, 75 percent of executives watch work-related videos on business-related websites weekly and more than half watch work-related videos on YouTube weekly.
When you engage a potential customer with video, you create a visual relationship with them.
Your customers are on YouTube and watching videos and you need to be there to capture their attention with your products and services.
(Click here for even more important B2B video stats.)
2. You can get more runway out of your current content assets.
Your first instinct might be that video is too much to add on to the other B2B lead generation responsibilities that come with content marketing. But that doesn't have to be the case! Since video is a separate format from your other content marketing assets, it is perfectly acceptable to reuse and repurpose your content by turning each asset into a video.
Videos also create a valuable experience that can be passed along to your customer's networks via all of the other social media platforms. This gives you a whole new platform on which to engage your customers and an even greater value on your current content assets.
To get started with video simply record video versions of what you've got on your website: blog post summaries, trade show experiences, case studies, white papers, and any expert interviews you've already captured in text form.
What's more is that video content can be used in all kinds of ways, like embedding them on your website (see example), embedding them on your blog (see example), posting on YouTube and social networks, and even linking them through your email marketing.
3. You already have the equipment for basic video.
Would you be surprised to know that you can record high-quality video footage using technology you already have? Look no further than your iPhone 5 or Android phone and free video editing software.
Using these simple technologies, we shot and edited this video for Poly Processing in about an hour. Video can be high-impact, engaging, and creative, without taking a huge up-front investment.
If you find video to be an effective communication method for your company, you can spend a little bit of money on better video and audio equipment. Wistia has an excellent Learning Center with plenty of great advice, from turning a conference room into a DIY video studio to how to plan and edit videos.
Video filming and editing is becoming an important skill for your B2B lead generation efforts. Rather than be intimidated by the details, consider embracing these new technologies to add another enticing level of engagement to your marketing efforts.
Have you embraced video for B2B lead generation yet? Why not?


photo credit
Share & Prove You Found It First
The Digital Slate
Looking for timely digital marketing and sales insights to grow your business? Subscribe to our monthly digital newsletter for marketing professionals.
Subscribe