Abobe just published some new research about what's keeping you, the marketer, up at night. Here's what we learned from the report:
Things change FAST in marketing today. 76% of those surveyed say that marketing has changed more in the last 2 years than the last 50.
Marketers have doubts about their ability to measure effectiveness of their marketing. Only 48% of digital marketers are confident in their own abilities to do successful digital marketing. Ouch!
Strong business performance is strongly correlated with digital marketing proficiency. Companies that are doing well say they are good at digital marketing.
Marketers are unsure what to focus on in the future.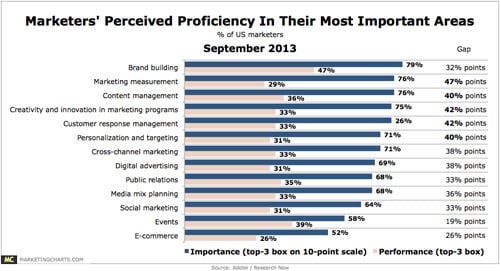 Concerns about measurement and proving ROI were major themes in the report. Connecting your marketing to your CRM can help close the loop and help you understand the impact on revenue of a marketing activity (or an entire strategy). This can help you measure ROI and justify your marketing spend. We use HubSpot for this.
Finally, marketers need to break their strategies into measurable tactics, and we've published a marketing activity planner so that marketers can set goals, then document findings once the marketing activity concludes. When reporting marketing results, marketers also need to consider which metrics matter most to their CEOs.
Just in case you're interested in the whole Adobe study findings, we've included the Slideshare presentation below.
Share & Prove You Found It First
The Digital Slate
Looking for timely digital marketing and sales insights to grow your business? Subscribe to our monthly digital newsletter for marketing professionals.
Subscribe