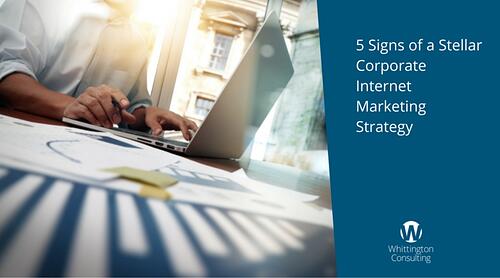 Did you know that only 44 percent of B2B marketers who publish original content have a documented strategy in place?
Despite the fact that 78 percent of today's CMOs think that custom content and other forms of inbound marketing are the future, too few organizations are taking the time to properly document their plans for the future. Creating specific, measurable goals and a well-thought-out content marketing plan can allow your brand to benchmark your Internet marketing program, and maximize return on investment. Here are a few tactics best-of-class marketers are using in their corporate inbound marketing strategy.
1. Timelines
Determining that you want to triple your conversion rates may be achievable, but you need more specific steps on how to get there. According to Forbes' Ilya Pozin, the world's most effective people set daily goals. Your inbound marketing strategy must include daily, weekly and monthly targets to achieve your annual benchmarks.
Pro tip: If the idea of setting some goals specifically for your online marketing interests you, check out our S.M.A.R.T. goal planning template, where you can document your goals and share them with others to help with accountability in your organization.
2. Metrics
How can you possibly measure things you haven't defined? More importantly, you can't possibly improve what you can't measure. It's easy to be overwhelmed by the avalanche of marketing metrics you'll find in Omniture, Google Analytics or other packages. Your brand doesn't need to measure everything, but it does need to select approximately 6-10 key performance indicators, like conversion rate, for your digital marketing efforts.
Pro tip: Corporate marketers look for benchmarks to understand if their KPIs are up to snuff. Don't accept the status quo or the benchmarks you find online. These are going to be different in every industry. Baseline your KPIs with your own data, then track trends on a monthly basis to see how they change. There's always room for improvement!
3. Campaigns
What are your brand's overarching goals for the next three, six or 12 months? Are you hoping to sign more consultation clients? Bring your latest product to market? Sign up more free trial users? These large-scale goals translate into strategy, which should include campaigns or "focal points" to focus on in your custom content, social media and lead generation efforts. By taking a campaign-level focus on your priorities, you'll achieve more unified and effective brand messaging.
Pro tip: We always build campaigns around goals. Specific goals not only help you determine how aggressive your corporate internet marketing efforts need to be, but they also make creating your online marketing plan by answering the "what" -- what content you'll publish and promote. Read this article to see our inbound marketing campaign framework that aligns all of your tactics to get results.
4. Custom Content
Marketers with a documented content strategy are nearly twice as likely to successfully measure ROI, according to the Content Marketing Institute. Business blogs, e-books, white papers and social media content are the fuel for your brand's efforts to increase awareness and win more customers. Including content marketing planning in your inbound corporate marketing strategy can ensure you're able to move forward.
Pro tip: It may defy conventional wisdom that your prospective customers will use your website to download information. It may not be a "best practice" in your industry, but that's the reason you should try it. It works.
5. Marketing Automation
Is your corporate website a lean, lead generation machine? If you're not investing in marketing automation, you may be working too hard and still missing opportunities. Your customers are likely to opt for self-directed product research, and engage with sales after performing research. By automating your lead nurturing, you can educate your prospects in a non-pushy, effective way.
Pro tip: Marketing automation isn't just useful while you're trying to convert a prospect to a customer. It can also be used with customers to help get customer reviews, distribute helpful information, and alert your sales team when a prospect takes an action on your website.
Is your strategy as defined as it could be? Are your tactics aligned to meet your goals?
Share & Prove You Found It First
The Digital Slate
Looking for timely digital marketing and sales insights to grow your business? Subscribe to our monthly digital newsletter for marketing professionals.
Subscribe