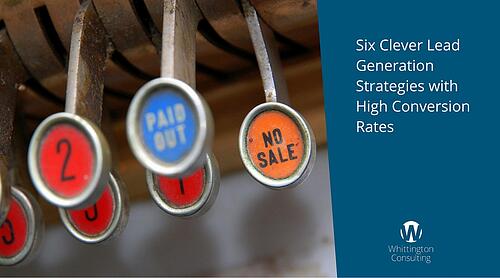 More and more companies are using their websites to build their contact lists and attract new customers. Companies are moving past reliance on the "contact us" link and doing other things to get people interested in their products and services.
How effective is your online lead generation campaign? How many of these leads result in actual paying customers? It takes a lot of effort and a combination of techniques to find highly-converting leads. Here are six actionable lead generation ideas you can start using today using email, social media, blogging, warm calling and more.
---
Learn what goes into an online B2B lead generation campaign:
---
1. Capture Emails, Build Relationships and Then Sell
On average, 95 percent of visitors to your site won't make a purchase on their first visit. In the B2B world, conversion rates are even lower because there are fewer conversion opportunities on the website. This means that trying to sell to your prospect right away using your website won't be effective. The web is a research tool for your buyers and influencers, so it's essential for you to capture their emails and nurture a relationship with them first before trying to sell them anything.
Start today: Offering the ability to subscribe to blogs by email, or at least sign up for a newsletter, is a great way to start building your list. Reduce attrition by sending helpful information by email on a regular basis.
2. Social Listening on Social Media Platforms
Carrying out a quick search on social media platforms will help you find people who are actively talking about your company, products, related products, your competitors, or what is going on in your industry in real time. Reach out to these people and actively engage them.
Start today: Unless you already have access to applications that let you monitor certain social media channels, start by reading up on industry groups on LinkedIn and join in the conversation.
3. Blogging and Testimonials
We've written before about the value of coming up with a content calendar and blogging on a regular basis. Include testimonials and case studies as social proof that your products work and your customers are satisfied. Once your audience sees that you have successfully helped your current clients, they will be more willing to make a purchase from you.
Start today: While testimonials and customer quotes are great for your public-facing website, you might opt to save detailed case studies for later in the buying process after you learn about your buyers' situations.
4. Provide Value to Your Clients Before the Sale
At first, provide your prospects with lots of helpful information without asking for anything in return. Once you have established a good reputation with them, sell them a great product. Chances are high that they will make a purchase, since they will trust your recommendations.
Start today: If possible, it's better to have a two-way dialog with your prospects and early stage leads. Find out what problems they are trying to solve and send them information that relates to their problems. Then you're helping, not selling, but furthering the sale.
5. Micro-Conversion Strategies
Very few people are going to fill out a contact form on your "contact us" page. Why? What do you expect when you fill out a contact form on a service provider's website? A call from a sales person? Exactly.
If very few people fill out a form on your "contact us" page, you have to find low-commitment ways for them to interact with your company. Provide a lot of opportunities on your website for your prospects to convert. This includes providing downloadable resources e.g. e-books, webinars and white papers, which prospects can only access after providing their email address.
Tip: Don't put everything behind a lead form. Offer helpful content like videos and infographics on your website that people can view without filling in a form, too.
6. Warm Calling
Research more about your prospects before reaching out to them. Know who you are calling and how you can be of help to them. Warm calling as a result of a referral or web lead increases your chances of conversion by up to 40 percent.
Start today: You might want to purchase a premium account on LinkedIn to give you enhanced capabilities as you research your web leads and referrals.
Using a combination of various lead generation techniques will increase your chances of converting your business leads. This will result in more sales revenue for your business.
Would you like to know more about putting together a lead generation campaign? Click here to download a free copy of 5 Proven Components of a B2B Lead Generation Campaign.
Share & Prove You Found It First
The Digital Slate
Looking for timely digital marketing and sales insights to grow your business? Subscribe to our monthly digital newsletter for marketing professionals.
Subscribe