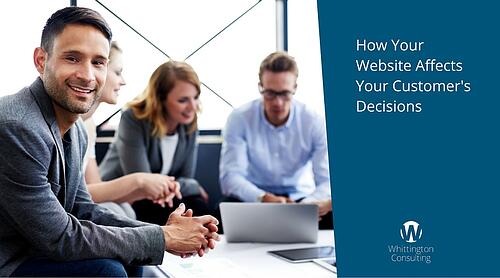 You might be surprised to know how your prospects are using your company website. Customers are usually not looking for specific products and services; they're looking to form solution sets -- possible solutions to the issues they face. Your virtual presence (website content, social media activity) can help your customers find your website and advance your product/service over competing products or services.
In order to understand, help, and sell to your customers, you have to put yourself in their shoes. When your customers browse the Internet, how often are they actively looking for products and services to buy? Chances are, not very often. Customers are not looking for products and services in most cases; they're using websites for research. Your website can help your customers find solutions to their problems. Here's how:
Be Solutions-Oriented and Customer-Focused; Not Salesy
Your website should help your customers solve a problem. As such, any advertising or marketing message that's on your site should aim to provide a solution for your customer first before selling them on something.
If you sell plumbing services, for example, then your website should offer specific plumbing advice, such as how to clear a clogged drain. If your customers can't resolve the problem on their own, your site should encourage them to give you a call.
---
Could you use a second set of eyes in order to make your website more customer-friendly?
---
Similarly, a CPA firm could use their website to tell people when they need to file amended tax returns. Alongside this information, you might include a button to call your firm to prepare the actual return.
If you offer solutions, then your customers will find your company and consequently your products and services.
Build an Extensive Knowledge Base
Why do companies blog? Because blogging is a relatively easy way to build a library of content that's well optimized for a potential customer's search for information. Some websites have hundreds of pages of valuable information which helps customers work through and solve their problems.
The juggling act that you have to manage is to create a website that's useful for your customers and also encourages them to take action.
In order to give customers a good reason to come to your website, you need to:
Establish your company as the expert in your field by writing articles and publications about the latest industry topics. You can also showcase your expertise through videos, interviews and podcasts.
Tell your customers exactly what they need to do to fix the problems they have (e.g. our example above about when to file amended tax returns)
Suggest products or services that may make their lives easier (to continue our example, placing a call to action on the page that links to a page about amended tax preparation or a call to action to ask a tax expert a question).
If you want your customers to trust you and make a purchase from your site, you need to offer them helpful information and advice that draws on your expertise. Building an extensive knowledge base via a company blog and establishing your employees as an experts in your industry are the two most important steps you can take to attract more business from your website.
Could you use a second set of eyes in order to make your website more customer-friendly? Let us help.
Share & Prove You Found It First
The Digital Slate
Looking for timely digital marketing and sales insights to grow your business? Subscribe to our monthly digital newsletter for marketing professionals.
Subscribe