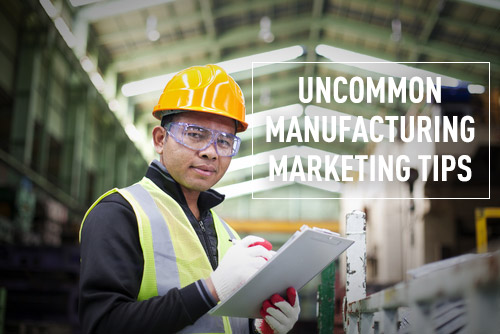 B2B companies are more than ever using online marketing strategies, but manufacturing companies have habitually held on to their traditional marketing techniques – print advertising, trade shows, and newsletters.
Only 21% of manufacturing marketers have a documented strategy for creating content online, lower than the B2B average. (We also published a case study on how a manufacturer's blog brought real business results that you may be interested in reading.)
The less flashy nature of the manufacturing industry can lead marketers to think that they don't need an online strategy, but a marketing strategy can improve business in any industry.
Combining traditional manufacturing marketing with an online marketing effort can help manufacturing companies leverage their content across all fields. Here are a few tips to improve your manufacturing marketing.
1. Listen to your prospects
Learn what your customers need by listening to their questions. Whether it's over the phone or at a trade show, write down anything a prospective customer asks.
Compare notes with your sales team to determine what your customers are asking about the most. By determining what questions your prospects are asking, you can set yourself up to become an educational resource for them.
Positioning yourself as a resource for commonly asked questions will help customers see you as the company that provides solutions to their problems.
2. Ditch the sales pitch
After you listen to their needs, try to become the solution. You want to provide information that will make your customers' lives easier and answer their most pressing questions.
Instead of pitching to them why your product is the best, try to discover if you are going to be a good fit for their requirements.
Periodic emails to your customers or prospective customers are a great way to provide information they would be interested in. Try to discern what sort of content resonates with your customers to decide what you should send them.
Blog posts, guides, PowerPoint presentations and even video are great ways to present interesting content to your prospective clients.
3. Improve your website
Many manufacturing company websites just use their websites as a place for contact information.
Contact information is essential on a website, but your site should be so much more. You can make your website a place for lead generation by providing content that is useful for your customers to read.
Including a call to action (CTA) in your website articles gives readers a place to go when they're finished looking at your article. A CTA can link to a guide or white paper that's relevant to the article, or to a contact form for further questions.
CTAs help you generate leads from the people who find your information useful and give them an opportunity to learn more about your company.
4. Use your web content at trade shows
Combining your web content with traditional manufacturing marketing methods like trade shows can make your website more visible to customers who may not be online.
If you frequent trade shows, consider printing off a few copies of a website article to have at your booth. Make a sign so customers know what it is, and allow them to take copies to peruse at their own pace.
If you include a link where they can find the post online, you just advertised your website and made your content easily accessible for everyone at the trade show.
5. Link up your website article to your e-newsletters
E-newsletters are the most commonly used form of content marketing by manufacturing companies, with 82% of manufacturing marketers utilizing them.
Make your e-newsletters more effective by linking up your website content and new articles each time you send one out. Send out an email at least once a month and measure who on your list is opening them.
If you find you have a group of people who are consistently opening your emails, put them in a separate list. Send this interested group more frequent emails containing content they might want to read.
You can also send them an update email each time a new article is published on your website to encourage them to visit your site.
Creating content is a great way to give your potential customers an opportunity to find you. As you create more great content for your site, try to find ways to intertwine it with your other marketing tactics to improve the effectiveness of all of your marketing and demand generation.
Don't limit yourself to just posting this content on your website – utilize it in your traditional marketing as well!
Do you need help planning a strategy around content? Our team can do this for you. If you would like to discuss how content could benefit your manufacturing company, contact us here and request a free consultation.
Share & Prove You Found It First
The Digital Slate
Looking for timely digital marketing and sales insights to grow your business? Subscribe to our monthly digital newsletter for marketing professionals.
Subscribe