"I'm not a salesperson."
At least that's what I told myself for years. I came to the realization about 4 years ago that my primary role is a sales role. For so many years, business just showed up in our inboxes. And it still does — our inbound marketing efforts are working.
Over the last 2 years, though, our business development efforts stalled a bit, and I realized that in order to grow, we needed to do some sales prospecting for the first time ever.
Sales was low-hanging fruit for us. It was an easy fix.
What I needed was some accountability. Our channel account manager at HubSpot introduced me to their Pipeline Generation Bootcamp, an 8-week intensive program led by sales expert Dan Tyre. Dan has grown and sold a few businesses, including growing one and selling to Microsoft. He knows what he's doing.
I started the program in June, and for 8 weeks, I would spend 4-6 hours completing sales related prospecting activities and over 6 hours on the phone weekly.
If sales at your company are stagnant, then it's time to look at your sales process. It's time to find out how hungry you are to make sales. Here's what I learned during the bootcamp, and hopefully you can use these learnings to jump start your sales.
You don't have to be "great on the phone"
You don't have to be a smooth-talking extrovert to pick up the phone and call prospects. Many people who are responsible for sales are scared to pick up the phone, opting for an email instead, because they think they aren't "good on the phone."
The key to being good on the phone is not being a smooth-talker, or sticking to a script, or giving a PowerPoint presentation.
The keys are prior research and the art of conversation.
Look at your prospect's website. Read their "About Us" section. Google their company and read the news articles. Look at LinkedIn profiles of the leadership team. Read their LinkedIn descriptions and find out what makes them tick. Research the gatekeepers, too — those uber-busy executive assistants that you'll probably get when you pick up the phone. Be able to relate to them all.
Most of all, be able to create value during that first conversation. Tell them you have some good advice, then give it to them. Then ask if they've considered that before. Ask questions, but have a real conversation. Let them do the talking.
The best prospecting call I had during my bootcamp was to a building materials manufacturer. I asked for the CEO by name, and the person on the other end informed me that he was no longer at the company. The old me would have thanked her and given up. Instead, I asked her name, and she told me. I asked her what she did at the company. She told me she was the customer service manager. And I asked her if she was busy — "after all, you must deal with hundreds of issues every day."
This broke the ice. She told me about the issues she was facing. I listened for 5 minutes. She told me how their company website needed better features so she didn't have to field those questions over the phone.
Then I told her we design websites and help companies grow, and that's why I was calling. As you might imagine, she was interested to learn more and set a follow-up call.
The key to being "good on the phone" is to have a helpful, relevant conversation.
People that pick up the phone get the deals.
Too many sales people rely solely on email today. They think that email alone is enough.
Email is best used with phone calls in sequence. It takes multiple tries to get through to the people you want to talk to, and you have a better chance if you use both the phone and email.
During the bootcamp, I made over 220 phone calls. Some were first time (connect) calls, while others were scheduled exploratory calls or presentations. You learn a lot in 220 calls, and you get better at finding ways to lead the conversation.
In just an 8 week period, our sales pipeline over tripled. I know because I track all our sales activity and deals using HubSpot CRM. In our history, we've never had this much new business in our pipeline. Instead of reporting to the team that we have one or two proposals out, we're discussing how we will have to stagger the onboarding of new clients so we can serve all the new clients appropriately.
Having a documented sales process matters.
In my sales consulting work with clients, almost no one has a documented sales process. And that's one reason why they close such a low percentage of business. You might stop there and say, "we close 70% of more of our business."
But the numbers don't lie. When we conduct a business analysis with prospects, I find that the average lead to close rate is under 20%. That's 4 in 5 leads that don't buy.
Diagramming the sales process and thinking through communication at different points in the sales process is the first thing we do when clients hire us to fix their lead-to-customer conversion rate through the sales process.
Having a documented sales process at my business has given me the confidence to know a) how we can be successful working with prospects, and b) how prospects want the sales process to run (we learned this through trial and error).
I won't share our process here, because frankly, ours will be different from yours. But by having a step by step approach, I can automate emails and tasks to place phone calls from within my CRM, keeping me on task. Sales run the same way every time, so I can automate reminders.
Our close rate will tick up as a result of having the documented sales process.
Having personal and business goals keeps you focused.
During the bootcamp, Dan Tyre himself flew into Richmond to spend a day with our team and speak at a HubSpot User Group meeting. If you meet Dan Tyre, you'll see that he has an unlimited amount of drive and energy. During my time with Dan, I asked him how he did it. He shared the book, Succeed: How We Can Reach Our Goals by Heidi Grant Halvorson, Ph.D.
He handed me his smartphone, and I had the opportunity to scroll through pages of personal and professional goals that Dan set for himself. There was a red "DONE" next to several of them. I was impressed that he had written so many down. I asked him how often he referred to his goals, and his reply was, "every day."
With so many goals checked off his list, it was obviously a truthful answer.
Over the next week, I set some agency growth goals, a process I hadn't really thought about in over 18 months. Now I have numbers to focus on, and have started to list some personal goals, even discussing them with my wife (who now wants to travel across the country in a motorhome once we're empty nesters).
Above the phone in my office is a vision board — a photo of my kids and a list of 5 things I want to accomplish. It reminds me when I pick up the phone that there's a reason for what I'm doing.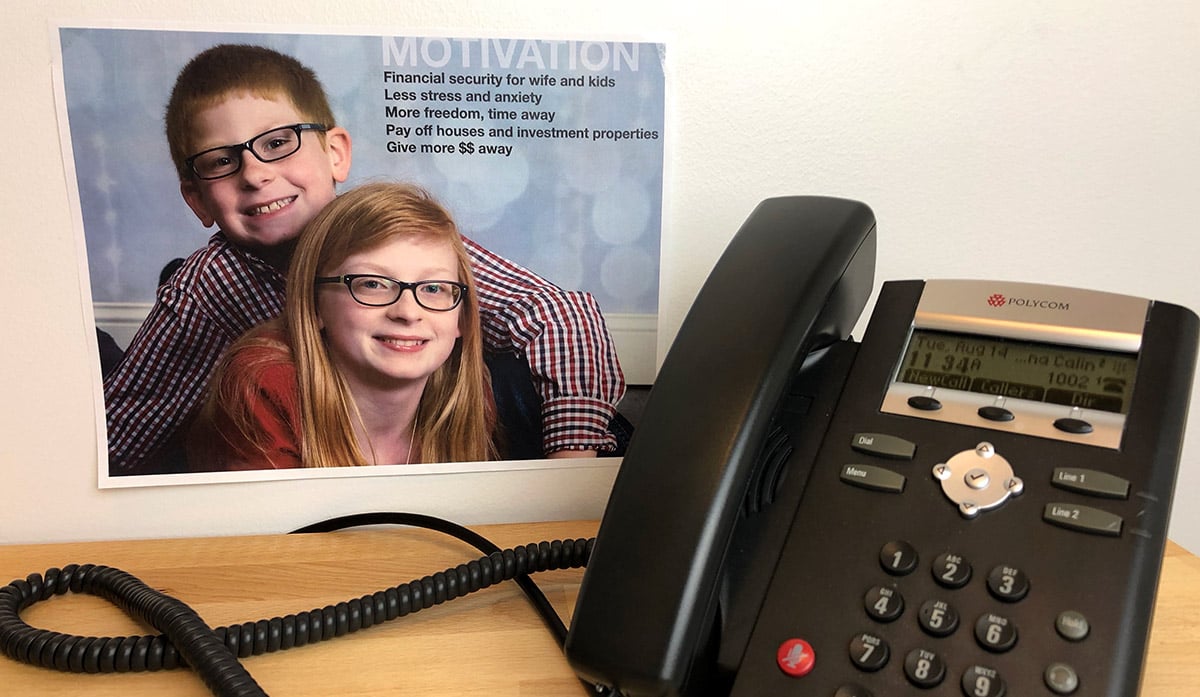 Though I've only shared a few here, there were so many other lessons learned. I'll keep some of them between me and my fellow LIONs of cohort 1000.
I'm interested in hearing your thoughts and opinions. Are there any other reluctant sales people out there? What have you learned? What are you learning? How are you getting better? I'd like to learn from you, too.
Share & Prove You Found It First
The Digital Slate
Looking for timely digital marketing and sales insights to grow your business? Subscribe to our monthly digital newsletter for marketing professionals.
Subscribe