When it comes time to redesign a website, most marketers focus on the wrong things—design, technology, or both.
Design is important, sure. Design plays a big role in whether people will trust your brand. One study indicates that 94% of customer perception is design-related. Technology matters, too. 40% of your potential customers will abandon your web page if it takes more than three seconds to load. But to be truly successful, a redesign needs to look beyond design and tech to a third, often-forgotten factor—strategy.
Take a hard look at your site. Is it giving you the sales results you need?
It's time to start thinking a different way about your redesign, because the benefits are more than worth it. Contact us to learn more.
Get Started
---
Request a conversation with an expert here
How much does a website redesign cost?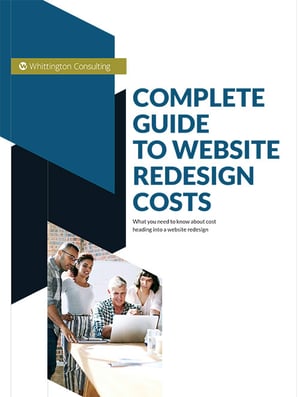 When we work with your company, we're doing much more than creating a pretty picture. About 30% of the time invested in a web design project is in researching your ideal customers and how we should communicate to them through your website. When our team designs a website, we expect that it will generate a return on your investment.
We price most of our website projects on a monthly basis, which includes website design, copywriting, a content management system, ongoing maintenance/updates and website hosting with nightly backup. A typical client spends between $800-$2,000 per month for their website. Many companies also hire our team to generate more website traffic and leads with inbound marketing.
For detailed information on cost, including a comparison of outsourcing versus building it in house, to cost considerations that you may not have thought about, read our downloadable guide on website redesign cost.