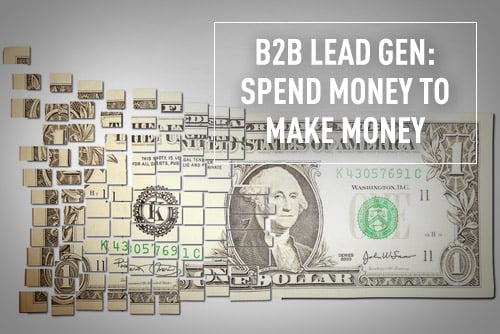 When it comes to lead generation for B2B companies, traditional advertising and marketing techniques reign supreme -- at least in the mind of many.
Yet, many companies that sell to other companies are struggling because their industries are changing, and sales and marketing is changing too. They haven't kept up, and now they face challenges.
In B2B lead generation, if you keep doing the same thing, you'll get the same results
You won't get your company to the next level using the resources you have now.
We speak with B2B companies all the time that say:
"Our sales are flat."
"We're spinning our wheels."
"We want to see if there's something different out there we should be doing."
The problem, though, is that most B2B companies are paralyzed. They can't measure their marketing efforts to know what to drop in order to add new tactics. They have done the same things so long that they've lost touch with modern marketing tactics.
This became evident to me while reading a LinkedIn Group conversation where a B2B veteran asked the question,"Why do many new or young marketers seem to believe that we must forgo the marketing techniques that have worked in the past in favor of using only 'digital marketing' or 'content marketing' now?"
Admittedly, you hear a lot more today about "content marketing" and "digital marketing" than you did about direct mail or trade shows due to the nature of the web today (there are so many more people publishing).
If you want to grow your business, you need to invest in aspects of your business that are there for your customer's benefit: educational resources that support the early stages of the sales process.
Digital has its place in the B2B marketing mix because it meets your customers where they are -- online -- and lets them go at their own pace.
Spending money to make money
Contrary to what some say, social media and content marketing -- done right -- aren't free. They're not as expensive as exhibiting at a trade show once a month, but to generate significant leads, you're looking at a significant investment.
Yet, inbound marketing can provide an outrageous return to companies who commit to it. But unlike traditional outbound marketing, inbound marketing employs tools that can look suspiciously like expensive office decor or frivolous expenses.
Two of the most questioned tools in the inbound marketing toolkit are a frequently updated blog and an active social media presence. Here's why they're worth it:
Blogging for ROI
If you blog regularly, you'll likely have a few top-performing blog posts (especially if these posts are expertly written and drawn from your own experience). But when you compare the majority of your company blogs to these high performers, they may seem like a B2B lead generation let down.
Your company still needs a blog.
Ask a manufacturing client of ours that made a $20,000 sale in one month because the customer found their blog on a competing technology. Their normal sales cycle of 6-9 months was shortened to a single month.
This is an example of how a seemingly simple inbound marketing tactic can produce sales ready leads. As you accumulate more blog posts on your website, you increase the opportunity that your ideal customer will find your company when searching for information.
The purpose of your blog is to attract customers, and it's your website's job to convert them. The more you work with an inbound marketing firm for more concentrated B2B lead generation, you can begin to track metrics that will show you an ROI over the long haul.
Did you know that 92.7% of companies using inbound marketing increase their lead generation?
Finding the ROI in social media
An active social media presence is a digital form of reputation management. While you may not be able to tie a direct ROI to your social media presence's B2B lead generation, having one is a vital part of a successful inbound marketing campaign because it:
Increases brand awareness.
Can be targeted toward where your potential customers are online.
Allows your company to establish a welcoming environment for your customers -- whether they're looking for information or they've captured your name from a referral and want to see how your company presents itself online.
Is a way to perform market research in your target industries.
Lets you monitor your competitor's feeds to see what they're up to.
Measuring the effectiveness of your social media efforts doesn't have to be difficult. HubSpot, for example, reports on website visits, leads and customers gained from social media efforts. It ties to your Salesforce or CRM to report on revenue, too.
Don't ignore these important inbound marketing tools for B2B lead generation. While you can't always easily tie a number to a fully stocked company blog and active social media presence, these tools are two important ways to show you customers that you understand your industry and are capable of providing results.
Do you find it hard to blog or keep your social media platforms updated? What would motivate you to invest more time in them?
[hs_action id="7811"]
Share & Prove You Found It First
Signup For Updates
Like what you are reading? Receive articles directly to your email! We treat your information responsibly.
Subscribe