We recently redesigned the website of Day & Night Family Dental, located at www.DayAndNightDental.com.
Day & Night Family Dental is a cosmetic and family dentist in Fayetteville, North Carolina.
The impetus for the website redesign was to increase the new practice's patient volume. After putting up a quick, rudimentary website, Day & Night Family Dental sought a more user-friendly, branded solution for its online marketing. They wanted a purposeful web presence that would increase the volume and quality of their new patient leads.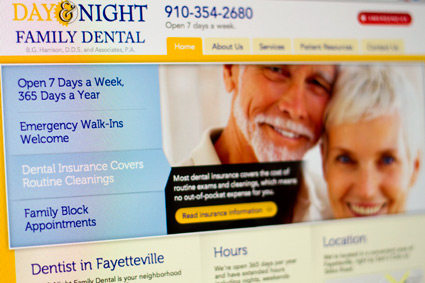 In order to help the practice achieve its goal, we designed and developed a new website that implemented best practices learned from years of experience generating leads for healthcare companies.
We also ran the website through a focus group of potential patients in the practice's demographic to get feedback and make the website more useful.
Website content was re-architected and re-written to help ensure that visitors can find the website via search engines, and that when they visit the website, they find it relevant and easy to understand.
We paid careful attention to the technical aspects of the project, too. The website was coded with mobile web visitors in mind. When people visit the website with a tablet or smartphone, the website automatically reformats itself in order to maintain readability and usability.
Day & Night Family Dental is pleased with their new website and the increase in patients resulting from it. Practice staff are seeing a heavy, steady stream of relevant email and phone leads from the website, which can all be measured with website analytics and phone call tracking.