Even after your company launches a new website, there comes a time when you may need to make some large changes on your website. When the message that you need to communicate changes, you don't always need to take on a complete website redesign. Iterative web design may be a better option.
The issue, then, becomes how to change the website so that the user experience is not sacrificed. We knew we had a challenge when Virginia Urology told us that they needed some significant changes to their homepage. We share this case study with their consent.
This blog details how our team used analytical tools to make web design decisions so that the visitor's experience was not disrupted. Using a click tracking tool and good web design principles, we refreshed their homepage without a drop-off in user experience.
We redesigned Virginia Urology's website in 2009, and while it has served them well, it was time to freshen it up.
One of the items on their list was to make the "myVirginiaUrology" banner on the page larger and move it to a different spot. They were worried that no one was seeing the banner. They also requested removal of the "pre-registration" button, or change the "pre-registration" wording to "portal."
Making design decisions with analytics
In our analysis of these changes, a couple of questions surfaced:
Do we know that people aren't seeing or clicking the banner?
Will people be confused with the new button wording ("portal")? Is this insider speak or do customers call it "the portal?"
We knew that we designed a strong call to action button ("pre-registration") and we thought that it was both clear and clicked frequently. Given that a change was requested, though, we put it to the test.
We used a click tracking tool, measuring a period of 1,000 visits to the website. Below, you'll see a heatmap of the old homepage. The lighter areas are areas where people clicked.
As you can see, there's a high concentration of clicks in the "myVirginiaUrology" banner. In fact, it was the most clicked area of the entire page, including any single item on the website's top navigation bar. 19.1% of the clicks on the page were on the "myVirginiaUrology" banner, and you can see on the heatmap above that a majority of the clicks were directly on the "pre-register" button.
Our homepage redesign for Virginia Urology takes the data into account.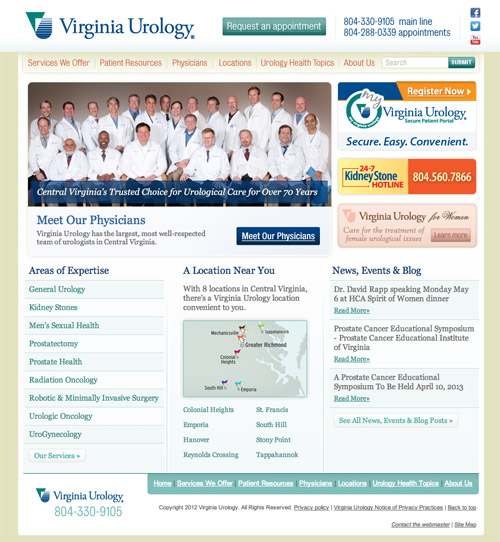 Key Takeaways
Don't let emotion or opinions govern the changes you make to your website. One of the biggest web design problems for companies is that they let the HiPPO (Highest Paid Person's Opinion) dictate their website design decisions rather than their customers.
Use measurement tools whenever possible to make the design decisions for you. When you make a substantive change, always keep a backup of the original so if the new version isn't as effective, you can "undo" those changes and start again.
Your Turn
How does your company make web design decisions? How do you ensure that they are good web design decisions?
What are your tactics for not letting HiPPOs dictate web design decisions?
Please leave your comments below.
Share & Prove You Found It First
Signup For Updates
Like what you are reading? Receive articles directly to your email! We treat your information responsibly.
Subscribe