We recently partnered with the Greene County Partnership of Greeneville, Tennessee to redesign their economic development website.
We worked with the Partnership to give them a website that was feature-rich and easy-to-use, and that would effectively market Greene County, Tennessee to site selectors and business consultants.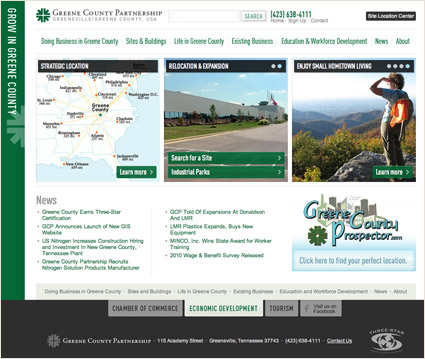 The website's new features include:
A revamped homepage that emphasizes Greene County's strategic location, available sites and buildings, and quality of life.
Detailed maps showing the location of roads, rail, airports, industrial parks and other pertinent county information
Expanded information about demographics and workforce, operating costs, business incentives, transportation and infrastructure, utilities and workforce development.
Robust commercial real estate listing and mapping system
Integrated content management system that allows Partnership staff to handle all site updates—including additions to the real estate system—in-house
"We're committed to helping local businesses thrive and creating jobs in our community. This new website is a step in that direction. Rick Whittington Consulting did a great job articulating our vision. Their knowledge of how economic development organizations work made them a partner, not just a vendor," said Greene County Partnership's CEO Tom Ferguson.
Visit the website at GrowInGreene.com.
Do you work for an economic development organization? If you'd like to learn more about our economic development website design work, then visit EconDevWebsites.com to read case studies and download our firm profile.