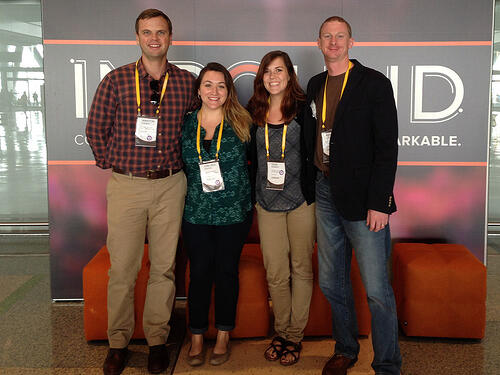 This week, our marketing team attended INBOUND 2014, HubSpot's inbound marketing conference in Boston.
Here are some takeaways from our team that you can use to improve your online marketing.
Tess Kennedy
Aside from the food, drinks, and awesome concert at Inbound 2014, the sessions were incredible. The range of topics left a place for every attendee to find something that fit their interests, and everyone walked away a little more knowledgeable.
I learned so much in just a few short days, but here are a couple takeaways that stuck out to me -
5 Tools Boring Industry Marketers Can Use
Dan Moyle
Dan made a great point about writing for any industry. He explained that you should try to write like you're writing for a news teleprompter. A lot of times the news anchor is reading the story for the first time while on live TV. They need to be able to read the text conversationally, and the listener needs to understand the story. No matter how deep or complex the subject matter, you should try to write in a simple, conversational way.
This is great for people like me who try to craft complex sentences that don't belong in a blog post. Writing like you're writing for a teleprompter will help you remember that your reader is seeing this information for the first time. They don't want to re-read sentences, and might move on if they have to.
The Perfect (Social Media) Post
Guy Kawasaki
Peg Fitzpatrick
Guy and Peg are experts at crafting the perfect social media post and they didn't hold back any of their secrets. One key takeaway from the presentation was that your posts need to hold value. That is, it needs to contain one of these four aspects: information, analysis, assistance, or entertainment.
If your post is not informing, analyzing, helping, or entertaining your audience, you should think twice before posting.
They referenced the NPR model. NPR is excellent at constantly providing quality content. Because of this, when it's time for them to hold a fundraiser, people are less annoyed at the request and more likely to donate money.
A Serious Look at Inbound Marketing Success Today, Tomorrow, and 10 Years From Now
Marcus Sheridan
Marcus gave an awesome presentation that touched on the divide between the marketing department and the rest of the company. He explained that many marketers tend to talk about inbound marketing in the wrong way, making it harder for others to understand.
Instead of suggesting "I think we should start a blog," you should ask, "when prospects visit our website, do we help solve their problems better than anyone else in the world?" This question helps your client or manager understand that you need to be answering all and any questions possible on your site. If you're not constantly providing answers to your customer's questions, you're missing out on opportunities to be found and seen as a resource for information.
Inbound 2014 was an incredible experience that any level marketer (or even non-marketer!) could benefit from. In less than a week, I saw Boston for the fist time, spent quality time with my awesome coworkers, and learned so much I can apply to my work every day. The atmosphere of the entire event was full of excitement and enthusiasm for Inbound, and I can't wait to see what they come up with next year!
Chelsea DeRose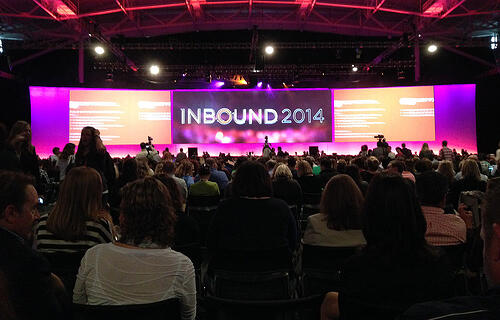 After a whirlwind conference, packed with several sessions per day, I walked away with pages and pages of notes, and tons of photos of informative slides. There are a few things that stuck out to me most however – things I am excited to implement into my work.
First, I learned a lot about how to think about current and future readers. In "Social Media As A Science," we learned about better utilization of your time on social networks. After examining millions of data entries, I am excited to test different phrasings and timings for our clients' social media messages. I think the biggest takeaway from that session was that you schedule social media posts for the weekend too, as that is the time when your audiences likely have to actually check social networks, not during the work day.
In one of the first sessions I went to, I listened to Dan Moyle talk about "boring" industries. As a B2B agency, we work with companies who common folk don't find particularly interesting. Instead of letting that be a roadblock, it's important to focus on being helpful to your target audiences that do find your company interesting. As Dan said, "helpful is the new sexy." That idea tied nicely into a talk about the manufacturing industry. Completing buyer personas ahead of time, focusing on the stressors of each persona, and researching how much time a particular target persona has to make a decision, you can create helpful content that they will attract them.
As inbound marketers, we can be scared to try new things for fear of failure. Thankfully, I was fortunate enough to sit in on a Bold Talk all about embracing fear. Dan was gracious enough to provide us with the steps to harness that fear:
Expect it, and know it's normal.
Stop playing out worse case scenarios in your head.
Harness that fear, and use it to fuel your creativity.
I'm excited to dive in and try some new things!
Winston Chenery
The importance of a clear strategy for better results - Throughout Inbound we heard stories of how better strategy upfront leads to better results from your inbound efforts. Several presenters advised us all to invest in a smart strategy prior to any execution. A solid strategy will lead to better ideas, and better ideas then lead to improvements in the strategy.
How to hire the best marketers -
Mike Lieberman, owner of Square 2 Marketing, discussed how their agency handles their interview process for marketing candidates to find the very best fit. The process involves several interviews, starting with a phone screening and building to a meeting with Mike. What I found interesting was their requirement that the candidate prepare a deck on a given topic and present it to Mike and his team in person. While this might be a bit intimidating for the candidate, it gives the company the chance to see how he or she handles a tough situation and gives a good indicator of how they might perform on the job.
3 ways to tackle building a lead generating piece of content -
Jason Miller, the Sr. Content Marketing Manager of LinkedIn Marketing Solutions talked about different ways to create that one piece of "big" content that your visitors will be willing to exchange an email address for --
Create the all encompassing guide to whatever conversation you want to "own" - From this piece of content you can slice off other content like blog posts, infographics, webinars, and more that all drive traffic to the lead generating offer.
Write 5 relevant blogs and roll them together as a single piece of content - Use your blog to write a series of posts on a given topic. Then, tie all of those together in a nicely designed ebook.
Turn your bottom funnel case studies into a collection of "success stories." - Use existing case studies to build a piece of content that tells a bigger story of customer success.
There are lots of cool new tools for inbound marketers -
While HubSpot is amazing, (and the
new CRM
and sales tools are really exciting) we were given several tips on new tools that can help with content strategies and are also 100% free. Here is one that I found interesting:
BuzzSumo -
BuzzSumo
will crawl any site or blog and tell you which content from that site has the most social media shares. This is great for using on your own site if you're curious what topics are resonating with your audience. It's also helpful for driving new content ideas. Run similar industry blog addresses through BuzzSumo to discover popular content areas that other companies are writing about to inform your own strategy.
Rick Whittington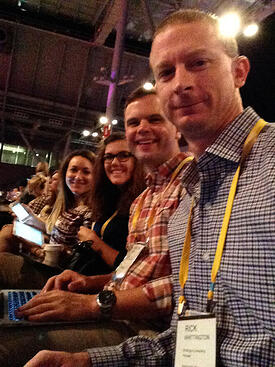 I'm really excited about HubSpot's Sales Platform Launch. Because I see the needs of our clients' sales teams every day, I think this product has the potential to help our clients close more business and have more fruitful conversations. If you'd like to check out our coverage of the product launch and see some benefits and features of HubSpot's new integrated CRM, click over to this article.
While I sat in a lot of sessions that pertain to marketing agencies, many of the concepts shared in those sessions can apply to in-house marketing and sales teams, too.
The structure your marketing and sales organizations is important for inbound marketing and sales success. For example:
You should set your organizational structure first, and define the core competencies of those positions. Choose the people for those roles second, not first.
I learned about the EOS Model™ (Entrepreneurial Operating System™) and how to have accountability across the organization and having super-productive staff meetings. You can learn more about this model here.
Your organization can "outgrow" good performers at your organization if they don't grow with you.
One more thought. Inbound marketing is still an emerging idea. Last year, there were 5,500 people at the conference. This year, there were 10,000 registered. I talked to tons of people in sessions that are just starting out in inbound marketing for their companies. The future is bright.
If you'd like to see more coverage of INBOUND 2014, check Twitter hashtag #INBOUND14.
Share & Prove You Found It First
Signup For Updates
Like what you are reading? Receive articles directly to your email! We treat your information responsibly.
Subscribe