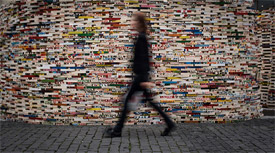 If you manage your own social media platforms, you might have noticed something by now that's tricky. Posts you share with LinkedIn, Facebook, and Twitter seem to do just fine, and you get a lot of response. But when you try to engage on platforms like Pinterest, Instagram, and Vine… it just doesn't seem like anyone is paying attention.
Here's the rub: if you're trying to post the same kinds of information in the same style on these visual platforms, it's no wonder they aren't performing! Visual platforms tell a different story about your brand, and they need special attention. But we promise it's worth it -- 70 million users on Pinterest, 150 million on Instagram, and 40 million on Vine are waiting to see what your company is made of. And if you want to approach these potential clients the right way, read on:
Using Pinterest to Build Your Brand
Pinterest is a staggeringly popular visual platform because it's accessible to everyone. It's a web-based app with iPad, iPhone, and Android accessibility, meaning anyone with a computer or mobile device can create a profile and start pinning. Users post and share highly-visual content and create different boards, or categories, of the links they like.
The secret to using Pinterest for your business? Use your boards and pins to create a theme around your industry -- not just of your company or your company's website copy and post. If you're looking for a great example, Bombshell Waxing & Beauty Salon in Richmond, VA does a great job of pinning not just beauty and hair care ideas, but also 1950s vibes like style, furniture, and Rockabilly. The result? A customer experience that goes beyond the brand.
B2B companies can also benefit from Pinterest, although adoption has been somewhat slow thus far. For good B2B examples, see HootSuite, GE, Constant Contact, HubSpot or Adobe.
Pro Tip: Make sense of your Pinterest activity by looking at all of it in one place. Use the following link for quick access to Pinterest activity by URL:
www.pinterest.com/source/[yoursitehere]
For example, check out www.pinterest.com/source/www.rickwhittington.com. It gives a list of every pin that's been posted from this site, giving you an idea of what's popular.
BEHIND THE SCENES PHOTOS?
Instagram for Building Community
If you sell a product or have a brick and mortar store, you should be on Instagram. While Instagram is mobile-only (you can see a feed online, but you can't create a profile without a phone), it's a great way to engage with clients where they want to be -- surrounded by photos of beautiful, entertaining, and lifestyle-related images.
One of our favorite examples, time and time again, is Lamplighter Roasting Co. Coffee. Their feed is active and beautiful, and anyone who's ever enjoyed a cup of coffee (in their cafe, or around the world) would want to follow them because it's a reminder of a relaxing, delicious experience. And every time you check in? You want to find your way to the cafe for a quick cup.
You may think B2B companies don't belong on Instagram, but some companies are proving that assumption wrong. Oracle and VMWare (their HR group uses Instagram for recruiting) both use Instagram effectively. CBRE posts photos of commercial buildings on Instagram, GE features their research and technology, and Cisco highlights community service efforts.
Pro Tip: B2B companies can use Instagram to communicate community involvement, "behind the scenes" photos that highlight product development, or show company culture to both prospective customers and employees. Use hashtags with your Instagram posts so people can discover your company.
Vine for Being Bold & Creative
Like Instagram, Vine is a mobile-only platform that allows users to create and loop 6-second videos. Vine is a great fit for brands that want to be more creative with their marketing, as well as brands with a large, invested following: think behind-the-scenes fashion show cuts from Marc Jacobs, or quirky claymation shorts from a film studio.
Vine is essentially a free, 6-second opportunity to be creative and advertise your company or product -- and many big brands use them as free commercials. Looking for some inspiration? Mashable does the list post best, with its post, 15 Brands Kicking Butt on Vine. Sort through these brands like Gap, VW, Samsung, and Puma to see how each takes a creative spin on the platform.
Pro Tip: Since Vine automatically pushes to Twitter, use hashtags to promote your post and get a bigger audience. For example, Dunkin' Donuts created the hashtag #DunkinReplay for its vines, allowing users to see all of the Vines in one list. Find more creative uses on Fast Company's "6 of the Best, Boldest Uses of Vine in Marketing".
Do you follow any brands or companies on social media platforms? Which do you tend to follow as a customer, text-based or visual?
Share & Prove You Found It First
Signup For Updates
Like what you are reading? Receive articles directly to your email! We treat your information responsibly.
Subscribe