We're excited to announce the launch of the website redesign for Timmons Group, an engineering and technology consulting firm that provides civil engineering, environmental, GIS/geospatial technology, landscape architecture and surveying services. Timmons Group has been recognized by Engineering News Record as one of the Top 500 Design Firms in the country.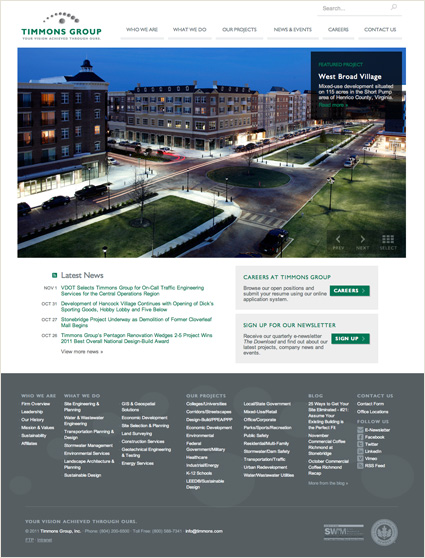 The website features a minimal, open design. Timmons Group wanted a sleek, modern aesthetic that would separate their website from the "typical" engineering website.
On the homepage, a prominent photo slideshow showcases various projects Timmons Group has completed.
Content is added, edited and organized through a custom content management system (CMS). Timmons Group can update the website completely in-house.
The CMS has also streamlined the process to add new project profiles the firm's portfolio. Timmons Group can now relate projects to services rendered and to market/industry served, and they can maintain the project portfolio in one place.
"We needed top-notch design, but we also needed great functionality and a seamless, easy-to-use CMS," said Tim Asimos, Corporate Marketing Manager at Timmons Group. "We got that."