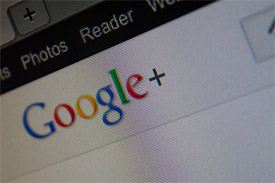 Google Plus may be a newcomer to the social media scene, but it's already a power player. After only two years on the scene, Google Plus boasts 300 million monthly active users compared to Twitter's 230 million and LinkedIn's 259 million.
You will find that the people on Google Plus are more technical, too, making it a good network for B2B companies to distribute their content.
Not all that excited to have another profile to maintain and update? We don't blame you. But don't miss out on the SEO benefits of distributing your website content via Google Plus.
If you're interested in building a strong presence on Google Plus, here are five steps to get the best return for the least amount of time.
Making the Most of Your Content on Google Plus
Much like Google's preference for genuine, search engine optimized content in web search, Google Plus is partial to it, too. The best way to make the most of your website content is with the following 5 tips:
1. Identify your industry keywords
Google Plus is an open network, which means that anyone can view your profile and read your updates. Your first step is to identify the industries in which you'd like to gain awareness. Where are your customers talking? What topics do you want to be known for? Choose five to eight specific keywords and aim to have each of your updates reference these topics.
2. Use those keywords as "hashtags"
When you're ready to post a link to your website or to share an article, deploy those keywords within your update. Use up to two hashtags per post to make sure that your update pops up in industry chats (any more than two hashtags and you'll come off as spammy).
An example of a hashtag for the construction industry would be "#construction."
3. Turn to video for conversions
Google Plus and the Google search engine notoriously favor video content over copy, so use this to your advantage by starting a YouTube channel and sharing your content. But don't get worked up about creating new content: it doesn't have to be 100 percent new. Simply revise your old content for a new medium and post old content in a new way.
If you're looking for a good example of a company that uses visually-rich content, including video, see the Taylor Guitars Google Plus profile.
4. Embed your updates in your blog posts
Last year, Google Plus introduced the ability to embed your update into a blog post. This is a great way to drive traffic to your profile and help your readers become familiar with Google Plus within the context of your company blog.
5. Don't go overboard without research
While Google Plus is increasingly known for having SEO benefits for your website and your profile, be careful with jumping on the platform too quickly. Depending on your industry, early adopters of Google Plus may be nowhere near your target market, leaving you investing hours in a platform that won't bring you a return. Do your homework before you jump in.
B2B Companies Using Google Plus
We've seen several examples of B2B companies that are using Google Plus effectively, and have included links to them below so you can get some ideas for your own Google Plus page:
Are you on board with Google Plus? Do you have a great example of a B2B company using Google Plus effectively? Share in the comments below.
Share & Prove You Found It First
Signup For Updates
Like what you are reading? Receive articles directly to your email! We treat your information responsibly.
Subscribe