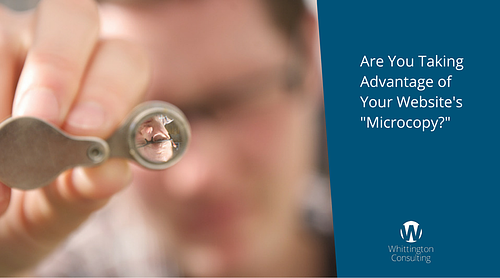 At this point, you probably know the importance of dynamic content marketing on your blog and social media platforms.
But how much attention do we pay to stagnant copy - the stuff that's always sitting in plain view? It's the seemingly insignificant areas of your website that can make all the difference. Specifically, your microcopy needs to be doing its job: directing and reassuring customers.
Have you scoped out every opportunity to improve your microcopy? For most busy marketing teams, there's always room for improvement...
Where is Microcopy Lurking?
The first step to improve microcopy is to simply identify it. Begin by browsing through your website and compiling a list of each instance of minor copy. A good rule of thumb: if the copy you're looking at seems insignificant and you've never paid it much attention before, add it to the list. Microcopy often dwells on contact forms, buttons, checkout pages, sidebars, login pages, headings and error pages.
Error messages are a great example of microcopy for two reasons: it's incredibly easy to overlook them, and they can have a profound impact on the next step your website visitors take.
For example:
A broken link can lead nowhere, forcing visitors to backtrack and figure things out on their own (something that many visitors won't have the time or patience for).
A broken link can also lead to a concise message, inviting visitors to return to another webpage.
A broken link can convey a message with depth and wit. This is where businesses can brilliantly intertwine branding, culture and microcopy. However, Beth Dunn of Hubspot warns, "When you're writing microcopy for an error message, the inclination is to be funny and say something like, 'Not so fast!' But be careful how you deploy humor...it's easy to come across like they did something wrong." So be sure to consider your audience thoroughly before writing microcopy.
What Microcopy Does
The power behind microcopy is its ability to engage and connect.
Carefully chosen words make visitors feel understood, while poorly written words confuse and annoy visitors. For example, a customer filling out a form may receive an error message that simply states "Error." This is much more agitating than an error message that reads, "We can't find that page. Want to try something else?" The latter example correctly gives direction and reassurance.
Ultimately, microcopy can serve a variety of purposes, saving customers time, entertaining or even giving a peek inside your brand's personality.
So comb through your website to ensure both microcopy and page content cohesively represent your brand. For professional help in taking full advantage of your digital presence, contact us to attract happy customers who trust and commit to your brand.
Share & Prove You Found It First
Signup For Updates
Like what you are reading? Receive articles directly to your email! We treat your information responsibly.
Subscribe